OAS General Assembly re-elects Luis Almagro as Secretary General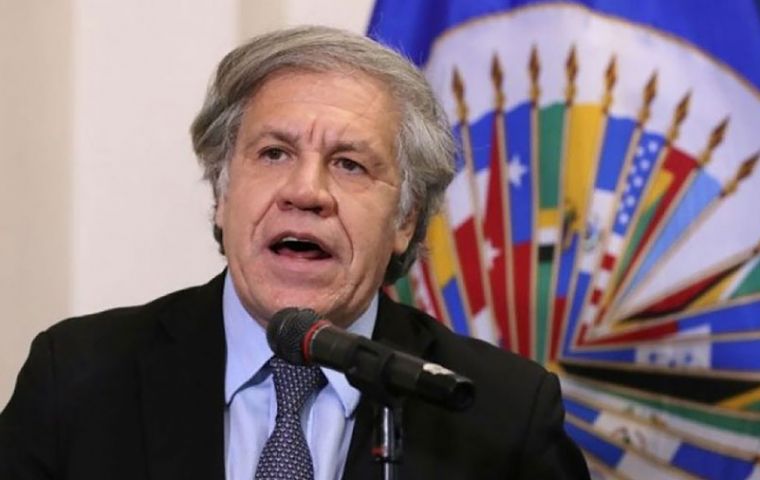 The 54th Special General Assembly of the Organization of American States (OAS) on Friday re-elected Luis Almagro as Secretary-General and Nestor Mendez as Assistant Secretary-General of the Organization.
Secretary-General Almagro, from Uruguay, was re-elected with 23 of the 33 votes cast by member states. Candidate María Fernanda Espinosa, from Ecuador, obtained 10 votes and one country was absent.
Following his re-election, Secretary-General Almagro expressed his thanks to those that supported his candidacy and vowed "I will continue to dedicate all efforts to ensure more rights for more people in all the 34 member states."
Assistant Secretary-General Nestor Mendez, from Belize, was re-elected by acclamation. He said, "I pledge my commitment to ensuring that this Organization is optimally positioned to assist each of its member states in addressing the global pandemic and other crises plaguing our world at this time."
Both Secretary-General Almagro and Assistant Secretary-General Mendez will fulfill their second mandate for five years starting May 26, 2020. Neither of them will be eligible for re-election once they complete their second term. The Assembly was held at OAS headquarters in Washington, D.C.
US Secretary of State Mike Pompeo congratulated the Uruguayan diplomat and in a brief statement said that "with Secretary-General Almagro continuing at the helm, I am confident about the future of the OAS and the Americas".
"Under Almagro's principled leadership, which the member-states have now renewed, the United States will continue to work with our partners at the OAS to promote and defend democracy, human rights, security, and economic prosperity for the people of the Americas.
"Today's vote by OAS Member States shows that even in the most challenging of times, such as what we are facing with the COVID-19 pandemic, our Hemisphere of Freedom remains steadfast in safeguarding our shared values."
Secretary Pompeo also outlined what can be considered an unofficial agenda of US interests for the second period of Almagro.
"As we overcome the threat to public health posed by COVID-19, the peoples of the Americas and the Caribbean face other challenges, such as the full restoration of democracy in Nicaragua and Venezuela; adherence to free, fair and credible electoral processes in Guyana; and holding the Cuban regime accountable for its malign activities".
"Opportunities abound as well, including the upcoming democratic elections in Bolivia and implementing an array of OAS programs and initiatives to boost resilience; strengthen democratic governance, human rights, and fundamental freedoms; and bolster economic competitiveness and development in the region".