Cristina Fernandez is back in Buenos Aires from Cuba with her daughter
Monday, March 23rd 2020 - 07:49 UTC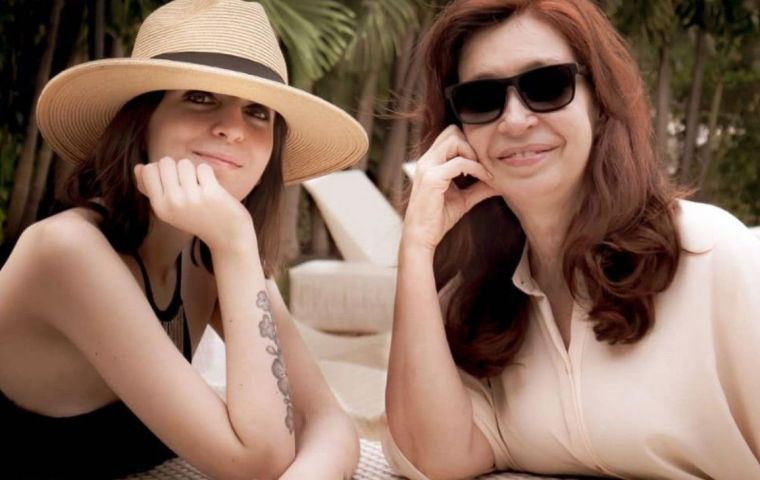 Argentine vice president Cristina Fernandez is back in Buenos Aires from Cuba with her daughter who has been under medical treatment in Havana for a year. The two immediately left for their home where they will comply with the mandatory fourteen day self isolation for any passengers arriving in Argentina from overseas because of the coronavirus pandemic.
The Cubana Aviación aircraft landed on Sunday at 23:00 hours in Ezeiza airport, with the two Kirchner passengers and a batch of Argentine tourists that had been stranded in Cuba.
Cristina Fernandez travelled quite often to Havana to see visit her daughter but this time after a week returned with Florencia who underwent treatment in the island for post traumatic stress disorder, PTSD, according to the medical reports presented in court in Buenos Aires.
The former president and current vice president is facing a number of corruption trials, two of them at least listing her children, lawmaker Maximo and Florencia as defendants.
One of the cases refers to public works graft and the fraudulent rental of family hotel rooms to businessman Lazaro Baez, believed to be an ex partner of the deceased president Nestor Kirchner. Likewise Florencia must explain the discovery of several million dollar at a bank coffer under her name.
Anyhow because of the pandemic most court hearings have been suspended in Argentina.
Florencia is staying with her mother, who earlier this week twitted that despite the fact Cuba is not listed as a coronavirus risk country, they would be complying with the preventive and obligatory social isolation regulations decreed by the administration of president Alberto Fernandez and extending from 20 to 31st March.
In her message, the vice president called on all Argentines to do the same, "look after yourselves and look after the rest, by respecting the isolation decree and remaining at your homes".
Florencia Kirchner originally arrived in Cuba in February 2019 for a cinema script course but during her stay requested authorization to delay her return because of a PTSD condition according to the presentation to an Argentine court by her mother and lawyers.
"Florencia working next to her doctors managed to reestablish some of her lost health and for some time now was preparing to return home" twitted her mother.
"But nothing is simple, that is why Flor asked me to come and help her to return. I felt I couldn't leave her by herself", the Argentine vice president was quoted on March 16 when she took a flight to Havana.