Argentina recalls the 38th anniversary of the Air Force baptism of fire on May first 1982
Saturday, May 2nd 2020 - 07:28 UTC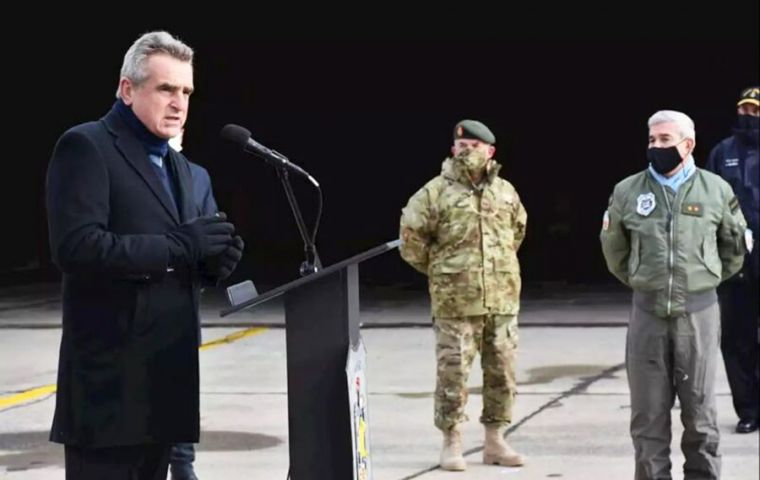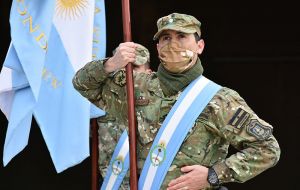 Defense minister Agustín Rossi called on Argentines to claim sovereignty over the Falklands/Malvinas Islands with the same character displayed by the Argentine pilots during the 1982 South Atlantic conflict with the UK and underlined it's up to the new generations to make sure the Malvinas cause is not forgotten.
Rossi and the top brass of the Argentine armed forces participated in a ceremony held at the Rio Gallegos Air Base commemorating the 38th anniversary of the Argentine Air Force "baptism of fire".
"We must claim the Malvinas cause with the same display of sovereignty commitment and courage shown by our armed forces in that conflict. The conflict has been reviewed from a military point of view, and nowadays from a human rights perspective, but we must not forget the nobility exhibited by our armed forces in the defense of our islands", underlined Minister Rossi in his speech.
"My homage and acknowledgement to the courage and selflessness of those who fought in Malvinas", pointed out Rossi adding that the commitment was to keep working for a great Argentina, a happy people and Armed Forces united and well provided so they can accomplish their duty".
The Joint Chief of Staff, General Juan Martin Paelo, the head of the Air Force, Brigadier Xavier Julian Isaac, Navy chief Rear Admiral Julio Horacio Guardia and the Army chief, General agustin Humberto Cejas plus Malvinas Veterans attended the ceremony held under extreme low temperature.
"The new generations of Argentines must remember, with intensity, the strategic value of the Islands, besides the natural resources they hold", since there are no more active military personnel that participated in the Malvinas War, and we must appeal to fresh memories not to forget the cause".
Rossi added that the Malvinas cause is deeply ingrained "in our constitutional order and must continue to be a vital element of Argentina's foreign policy". The minister added that Argentine armed forces are engaged in sea, air and land activities, with the Air Force currently very active in the repatriation of Argentine citizens stranded overseas because of the coronavirus. But the Army is also involved in the distribution of food and medicines, among our vulnerable people, and "they are doing it with the same commitment displayed during the Malvinas conflict"
As part of the ceremony, a young officer from the Rio Gallegos base made the roll call of the 55 Argentine airmen who lost their lives in the conflict.
Finally given the current preventive and mandatory social distancing, the ceremony to honor the Argentine Air Force 38th baptism of fire anniversary was held next to the barracks from where fighters and bombers took off during the Malvinas conflict.
On May first 1982, the British Task Force started operations to recover the Falklands, and bombed airstrips. The Argentine Air Force which until then had only been involved in internal conflicts (1955 and 1975) reacted with 57 sorties against the British forces.