Argentina willing to continue talks with bondholders; ensuring sustainability of the debt is the target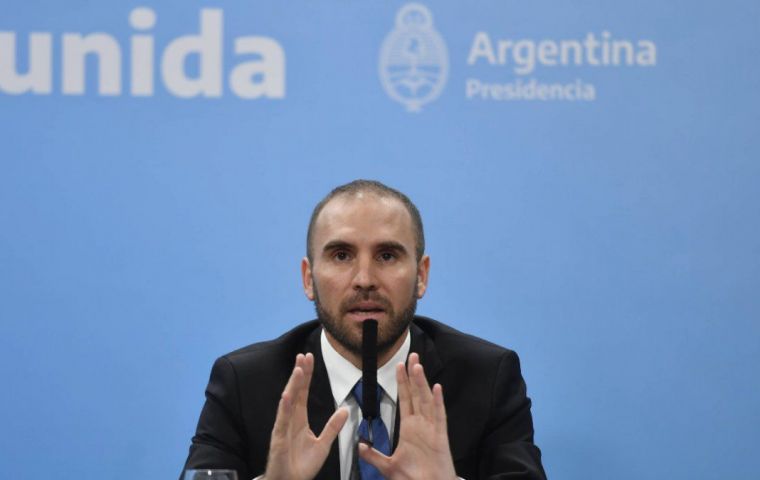 Argentina is willing to keep working toward a deal to restructure its debt if an offer that expires on Friday is rejected, the economy minister said. Economy Minister Martin Guzman told Argentine daily Clarin in an interview published on Sunday that he is seeing a "growing understanding" with bondholders ahead of a May 8 deadline for the offer that creditor groups already criticized.
"We believe that the process in these days has been positive, yet it is still lacking and the dialog will continue," Guzman said. "If there is no settlement on the 8th, Argentina will continue working as long as necessary to restore the sustainability of the debt."
Argentina made a formal offer on April 17 to creditors to restructure US$ 65 billion of its debt, but analysts expect major bondholders to reject the deal. If no deal is reached by May 22, when a 30-day grace period for coupon payments on some dollar bonds expires, the country would fall into default.
Guzman said that Argentina had informed the Paris Club that it did not have "the capacity" to pay and would seek to renegotiate its debt with the club of creditors. Last month, Argentine President Alberto Fernandez said France was backing a request to delay by a year a US$ 2.1 billion payment due in May to the Paris Club.
Presidents Alberto Fernandez and Emmanuel Macron had a long phone talk 18 April and so did last week, the two foreign ministers, Felipe Solá and Jean-Yves Le Drian, Fernandez thanked Macron for his support and understanding.
Guzman also said in the interview that inflation in April will continue to slow and that the government's massive stimulus was not causing "a strong impact" on consumer prices.
In an article published in the Financial Times on Sunday, Guzman said the country that had defaulted eight times in the past and could not afford to pay bondholders more than the current offer.
"We are, in short, not asking our creditors to lose -- but to make less," Guzman wrote. "Forcing further austerity to pay for more would not only be economically disastrous, but also politically and morally unacceptable -- and ultimately unsustainable."