Argentine patrol arrests Chinese jigger illegally fishing in the county's EEZ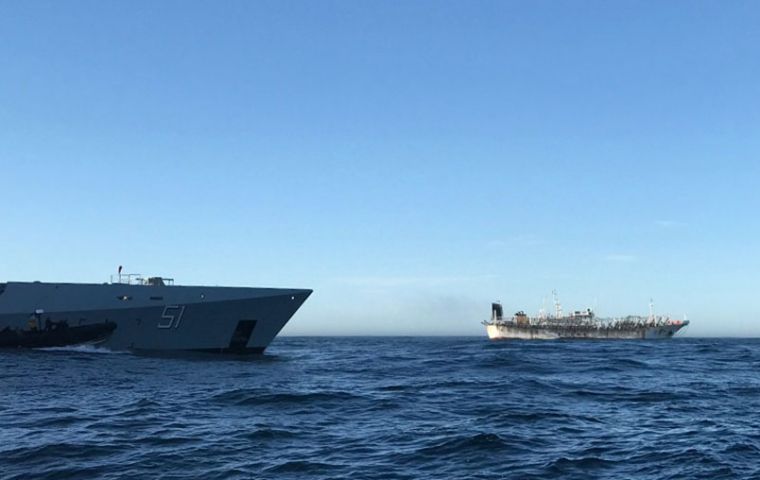 The Argentine Navy sighted and arrested early Monday a Chinese jigger which was illegally operating in the country's EEZ. The report says that the ocean patrol vessel ARA Bouchard detected the Hong Pu 16, fishing with its Automatic Identification System turned off, but full lights on to catch squid.
Despite repeated attempts by radio and flares to communicate with the jigger, the poacher headed for international waters, ignoring requests to allow an inspection party with a Fisheries observer to board it. Furthermore the jigger evaded persecution by sailing among the fleet of foreign jiggers that was stationed on mile 201, just outside Argentina's EEZ
ARA Bouchard then applied the international protocol to apprehend vessels involved in illegal, unreported fishing and started a three hour chase that ended when Hong Pu 16 finally stopped and allowed a visit, registry and capture procedure including a Fisheries observer. Although the official navy report does not mention it, apparently the patrol finally fired a couple of intimidating shots.
Some 700 tons of fresh produce and 300 tons of frozen fish were discovered in the haul of the jigger. Evidence shows that the Chinese Hong Pu 16 was sailing and operating off Puerto Madryn, along parallel 42. The vessel will be escorted to the nearest Argentine port to face a federal court for violation of the fisheries law and evading arrest.
ARA Bouchard is based in Mar del Plata and was recently incorporated to the Argentine Navy. She is a refurbished ocean patrol vessel, which belonged to the French Navy. ARA Bouchard on Sunday helped the Coast Guard patrol "Prefecto Fique" arrest a Portuguese trawler caught poaching in Argentina's EEZ.