Trump not interested in speaking with president Xi and suggests cutting "whole relationship with China"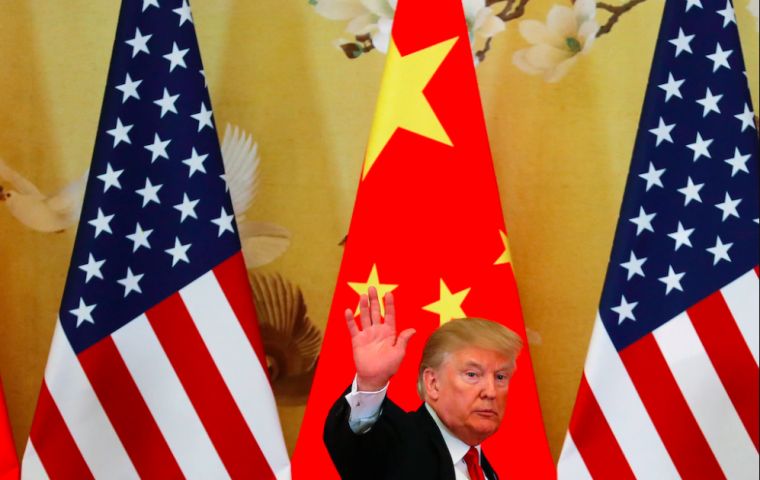 President Donald Trump signaled a further deterioration of his relationship with China over the novel coronavirus, saying he has no interest in speaking to President Xi Jinping right now and going so far as to suggest he could even cut ties with the world's second-largest economy.
In an interview with Fox Business Network broadcast on Thursday, Trump said he was very disappointed with China's failure to contain the disease and that the pandemic had cast a pall over his January trade deal with Beijing, which he has previously hailed as a major achievement.
"They should have never let this happen," Trump said. "So I make a great trade deal and now I say this doesn't feel the same to me. The ink was barely dry and the plague came over. And it doesn't feel the same to me."
Trump's pique extended to Xi, with whom the U.S. president has said repeatedly he has a good relationship.
"But I just – right now I don't want to speak to him," Trump said in the interview, which was taped on Wednesday.
Trump was asked about a Republican senator's suggestion that U.S. visas be denied to Chinese students applying to study in fields related to national security, such as quantum computing and artificial intelligence.
"There are many things we could do. We could do things. We could cut off the whole relationship," he replied.
"Now, if you did, what would happen? You'd save US$ 500 billion," Trump said, referring to estimated U.S. annual imports from China, which he often refers to as lost money.
The remark drew ridicule from Hu Xijin, editor in chief of China's influential Global Times tabloid, who referred to Trump's much-criticized comments last month about how COVID-19, the disease caused by the coronavirus, might be treated.
"This president once suggested COVID-19 patients inject disinfectants," Hu said on Twitter. "Remember this and you won't be surprised when he said he could cut off the whole relationship with China."
U.S. Treasury Secretary Steven Mnuchin told Fox Business Network China needed to provide a lot more information about the coronavirus and Trump was reviewing his options.
"The president is concerned. He's reviewing all his options. Obviously, we're very concerned about the impact of this virus on the economy, on American jobs, the health of the American public and the president is going to do everything to protect the economy and protect American workers," Mnuchin said.