Falklands marks 38th anniversary of liberation from Argentine occupation in 1982
Friday, June 12th 2020 - 15:40 UTC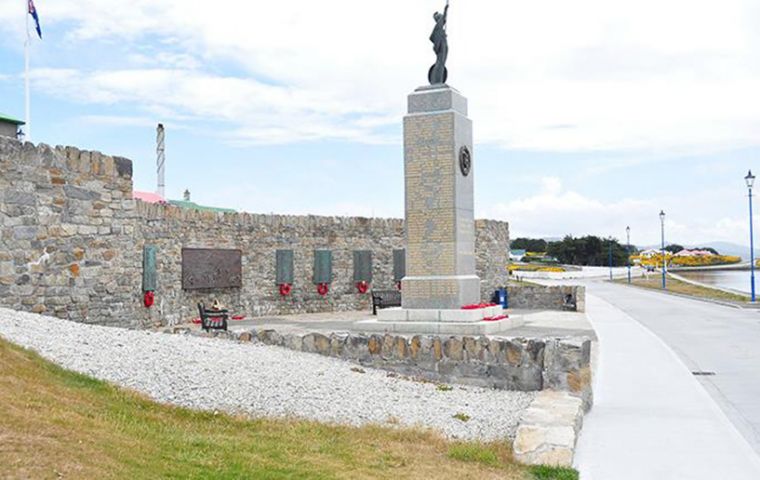 To mark the anniversary of the Liberation of the Falkland Islands from Argentine occupation in 1982, the following program has been arranged by Gilbert House for Sunday 14 June 2020.
A thanksgiving service will be held in Christ Church Cathedral commencing at 9.45am, which is subject to ongoing medical advice. Due to current Covid-19 social distancing requirement, there will be less seating than normal and priority will be given to Veterans, those who served in the FIDF and residents here in 1982.
At 11.00am a ceremony will be held at the Liberation Monument in front of the Secretariat building.
Due to current Covid 19 restrictions and current social distancing measures, the format has been changed. A detachment of FIDF and BFSAI contingent, comprising of 16 Medical Regiment stationed at Hillside Camp in Stanley, will form up directly at Liberation Monument. Youth groups are encouraged to attend in uniform but will remain within family bubbles rather than taking part in the parade.
HMS Forth will be anchored in Stanley Harbor and the RAF will provide a fly-past at 11.02am.
After prayers His Excellency Governor Nigel Phillips CBE will lay a wreath. Wreaths will also be laid by The Honorable Leona Roberts, MLA; Wing Commander Wood, representing the
Commander British Forces; official FIG guests; representatives of the Armed Services; Veteran associations, and by relatives and others wishing to do so.
Members of the community wishing to attend are asked to arrive at the Monument no later than 10.45am and respect the social distancing guidelines. To assist with the social distancing guidelines, markers will be placed on the grass slopes and either side of the Memorial. Additional loud speakers are being installed to enable the public to hear the service.
There will be limited space for vehicles so people are asked to walk to the Monument if they are able. It is appropriate for medals and decorations to be worn on this occasion.