Solá confirms end of fisheries info exchange with Falklands: on this, they decided how many licenses to award
Tuesday, June 16th 2020 - 10:30 UTC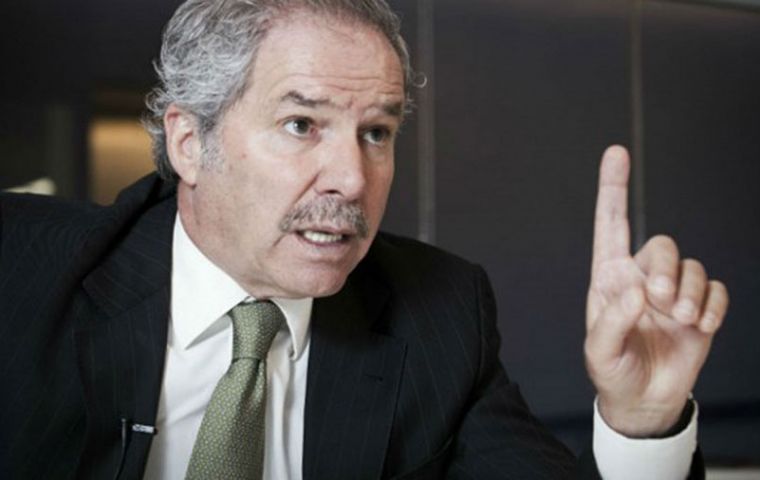 Higher fines to those illegally fishing in Argentine waters, including around the Malvinas Islands, is directed to discourage poachers, indicated Argentine foreign minister Felipe Solá who also defended the decision to interrupt the exchange of fisheries information on the South Atlantic bio-mass with the United Kingdom and the Falklands.
Solá said that the three bills sent to Congress, the National Advisory Council on Malvinas policies, demarcation of the outer continental shelf border beyond the 200 miles and increasing sanctions for illegal fishing in Argentine waters, contrast with the "low intensity" sovereignty policy, during the four years of the previous administration of former president Mauricio Macri.
"There are many species which interest us, but there is one in particular, squid which circulates freely in the South Atlantic and those volumes which we don't catch, are caught by vessels which pay licenses to the usurpers from Malvinas", argued Solá regarding the illegal fishing fines, which will be implemented once the bill is approved by congress.
Interviewed by A24, Solá also defended the government's decision to interrupt the annual exchange of information with the UK about the evolution of the fisheries bio-mass in the Argentine maritime space, contemplated in the Foradori-Duncan statement signed in 2016 by the Macri administration.
"To protect our rights, we decided to suspend the information exchange (collected in Argentina by the Fisheries National Research and Development Institute, Inidep) and we are no longer going to notify them our squid catches because when we did, we were telling, the usurpers, how many licenses they could award", underlined Solá.
The minister argued that the Foradi-Duncan accord only purpose was "to show that Argentina was in good relations with UK, and that is would not interrupt the development of the Islands"
And that is why we decided to change the consequences of that accord between deputy minister Foradori and his British peer, Alan Duncan, which "was not a roadmap as our predecessors pretend, but rather an accord in which Malvinas and Malvinas discussions were no longer the center piece of the matter".
"Former president Macri deployed a Malvinas low intensity policy. What do we mean by low intensity? Dissimulate the Malvinas issue. It was like telling the UK, "we're getting on fine, what a pity the Malvinas issue".
Finally Solá said that the government with the new fines' increases for illegal fishing, wants to update the values which date back to 1997.
"The lowest fine will be equivalent to 300,000 liters of diesel oil, plus all the value of the catch in the holds, plus the cost of pinpointing and escorting the poacher to the closest port in the cost",
Last but not least Solá said that the integrated Malvinas Advisory Council will help design, address strategies and guarantee medium and long term consensuses .