Argentine farmers accuse Kirchnerite goons of vandalizing silo bags
Tuesday, June 30th 2020 - 11:03 UTC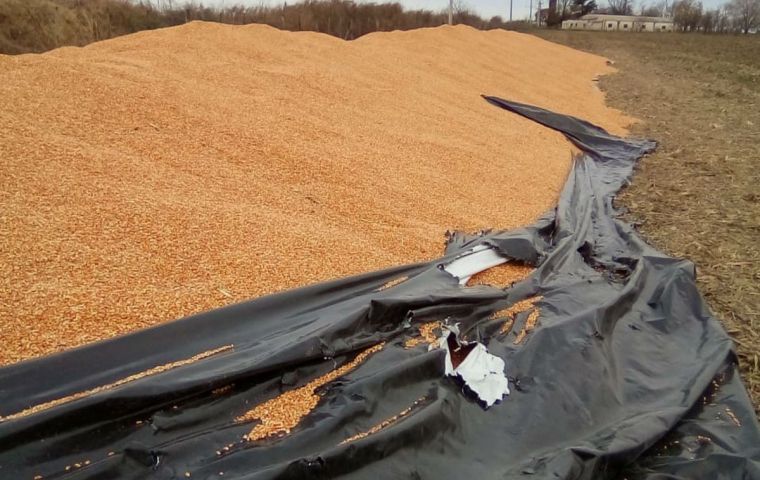 Argentine farmer association CRA has expressed its concern over a recent wave of vandalism on silo bags that store grain and oilseeds on-farm.
"These days we are witnessing an increasing number of cases of vandalism on silo bags in different parts of the country, a fact that is not new and that it seems to be closely limited to an ideological hatred towards the farm," CRA said.
Attacks had been reported in a number of localities in Cordoba and Santa Fe provinces and comes weeks after the government said it would tailor loans to farmers in a bid to encourage them to export goods to help the country's battered finances.
"What the Argentine farmer produces is his property and his decision to sell the grain is a free and sovereign decision that must be made according to the needs and expectations," CRA said.
During the former government of Cristina Fernandez de Kirchner, now acting as the Vice President of left-wing coalition Frente de Todos, a large number of rural producers had reported that silo bags containing grains and oilseeds had been vandalized and accused her supporters.
The Argentine government is heavily dependent on the US dollars generated by grain exports due to the growing fiscal deficit, declining international reserves, and difficult debt restructuring negotiations with private bondholders.
Demand for grain bags is expected to reach 450,000 units for the current crop cycle, compared to 420,000 units in the previous cycle, the Rosario Board of Trade (BCR) said in a recent report.
"The producer has few alternatives to preserve the value of money once he receives the pesos for the sale of the grain. With the purchase of dollars limited by the government, a high proportion of farmers make [only] strictly necessary grain sales to meet funding needs," BCR said.