Argentine debt negotiations: Cristina Fernandez praises Minister Guzmán's performance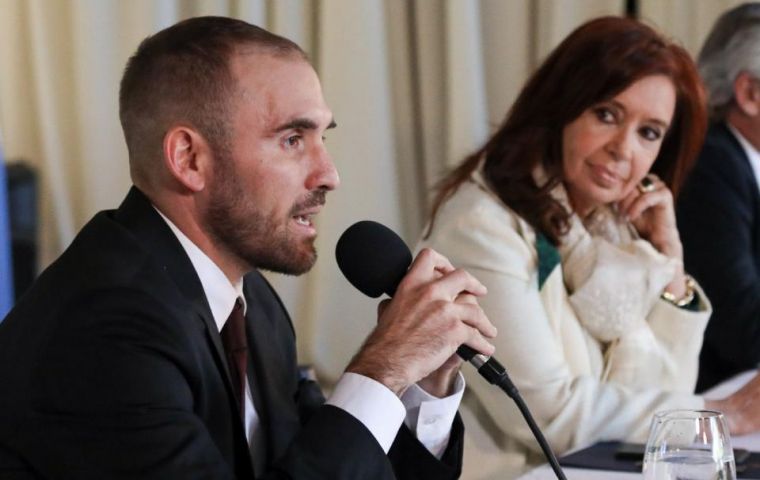 Argentine vice-president Cristina Fernandez de Kirchner praised Minister of Economy Martin Guzmán statements during a television program in Buenos Aires and described he was "clear as crystal water", in his replies
"Martin Guzman on the foreign debt, 'clear as crystal water'" wrote Cristina Fernandez in Twitter on Tuesday, with an attached video in which the minister was interviewed in a television program of Todo Noticias.
"We're not interested in fighting", the minister said who insisted "we've come to try a long standing problem of the Argentine economy"
"Argentina in 2016 returned to the international money market and started to take debt at interest rates of 7% when the rest of the world was working with rates almost at zero", argued the minister.
He added that for Argentina to pay such rates, the country would have had to grow significantly, and the creditors knew they were assuming a serious risk.
"There are no irresponsible debtors without irresponsible creditors", Guzman warned adding "we are not asking them to lose money, but rather that they make a lesser profit".
The minister underlined that "what we target is not to commit repayments which will impede Argentina from implementing all the public policies that the country needs to recover and stand up again"
"This means is a sustainable agreement, a commitment which we can comply with, which we can honor", affirmed the Argentine Economy minister.
Argentina and bondholders are holding negotiations for the restructuring of a US$ 65 billion debt. The talks have been going on since May, and Argentina is technically in default for not having complied with some of the maturing bonds.
Apparently the difference between the Argentine offer and a majority of creditors demand stands at some 3 cents to the dollar: 53 against 56 cents. Both sides have been yielding but on Sunday president Alberto Fernandez anticipated it was the final deal, "This is as far as we are prepared to go, there's no way of continuing when the country already has 40% of the population living in poverty".