South Brazil state signs with Chinese drug company a Covid-19 vaccine trial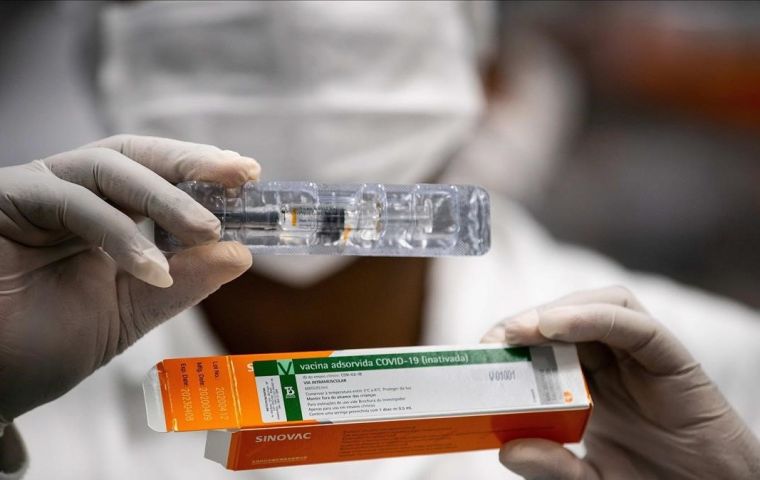 Chinese drug company Sinopharm and Parana state have agreed to launch the fourth major COVID-19 vaccine trial in Brazil and will seek regulatory approval in the next two weeks, the Brazilian partners said on Wednesday.
A trial by Sinopharm would join Phase III trials already announced in Brazil by AstraZeneca, Sinovac Biotech and a Pfizer partnership with BioNTech.
Jorge Callado, head of the Parana Technology Institute (Tecpar), said they would soon finalize their proposal and submit it for approval with federal health regulator Anvisa.
Brazil's COVID-19 outbreak, the world's worst outside the United States, has made it a global testing ground for potential vaccines. Sinopharm's candidate vaccine is already being tested in the United Arab Emirates with 15,000 volunteers.
Parana is also in talks with Russian researchers about producing their potential vaccine, the state government said in a statement, adding that Governor Ratinho Junior would soon meet with Russia's ambassador to Brazil.
Russians have also contacted Sao Paulo's Butantan Institute to discuss testing their vaccine, the institute's director told reporters on Wednesday.
Brazil on Wednesday set daily records for new COVID-19 cases and related fatalities. The 69,074 new confirmed cases and 1,595 additional deaths reported by the Health Ministry pushed the country past 2.5 million infections and 90,000 killed.
President Jair Bolsonaro has fought against restrictions on economic activity, and the disease has advanced as governors and mayors have yielded to the pressure. In some cases, Brazilians have packed into bars and crowded public squares without masks, often in defiance of local rules.
Bolsonaro himself has flouted social distancing guidelines by joining supporters at rallies around Brasilia, the capital, in recent months. He fell ill with coronavirus this month, and spent weeks in partial isolation before recovering.