Kiwi fishermen back from Falklands, must complete 28 days quarantine before landing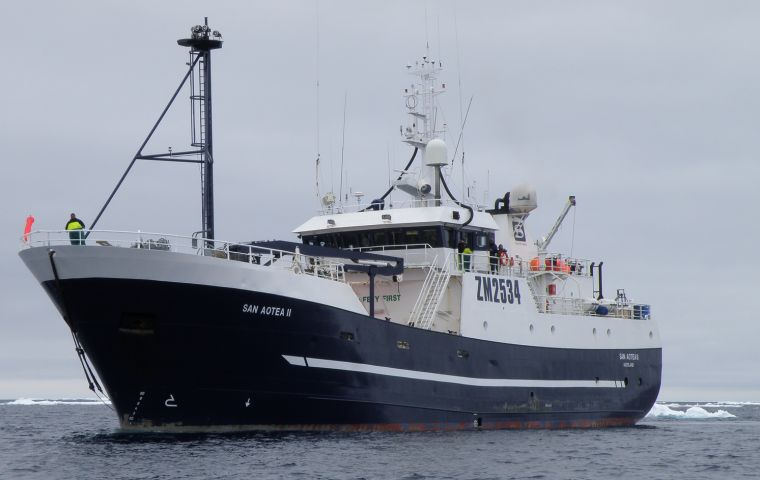 The mission to retrieve 15 Kiwi fishermen from the South Atlantic Ocean is almost at an end, with the San Aotea II anchoring off the coast of Timaru, in New Zealand's southern island, a day ahead of schedule.
According to reports in the NZ media, the long liner was expected to arrive in Timaru on August 1 after a 55-day round trip, but arrived on Friday morning, ahead of schedule thanks to unusually good weather in the South Pacific in the past week, Sanford spokesperson Fiona MacMillan said.
MacMillan said those on board would not be allowed to step off at Timaru's port until they had been on the ship for a full 28 days since leaving the Falkland Islands, Covid-19 testing was done and paperwork had been completed.
A team of medical experts in PPE will board the ship to conduct Covid-19 tests, and only once the results are known, will the San Aotea II be allowed to berth in Timaru. If anyone tests positive for Covid-19 the crew, and passengers, will stay in lockdown on the vessel.
The crew and passengers will be allowed to leave the vessel on Tuesday morning, MacMillan said. "Everybody is fine on board. They are having a little rest, but they just have to wait.
"When the results come back in, which will hopefully be Monday evening, then they will come along and berth, which they will do at 7am on Tuesday."
People will only be allowed to leave the vessel after customs have conducted an inspection between 7am and 8am on Tuesday, she said.
In June, the Ministry of Health put in place strict isolation or quarantine requirements for those arriving at the maritime border to prevent the spread of Covid-19, she said.
MacMillan said the only reason the San Aotea crew and passengers could be prevented from disembarking was the remote chance that somebody on board was carrying the virus.
The San Aotea II left Timaru on June 6, on what was expected to be a 50-day mission to retrieve 15 Kiwi fishermen from the San Aspiring in the Southern Atlantic Ocean with South Georgia toothfish licenses after Covid-19 left them with no other viable way to get home.
It left the Falklands on July 4, carrying crew and an Auckland couple on honeymoon, Feeonaa and Neville Clifton, who hitched a ride after also being stuck on the Falklands due to Covid-19.