C24 calls on UK and Argentina to resume sovereignty talks on South Atlantic islands
Thursday, August 6th 2020 - 09:50 UTC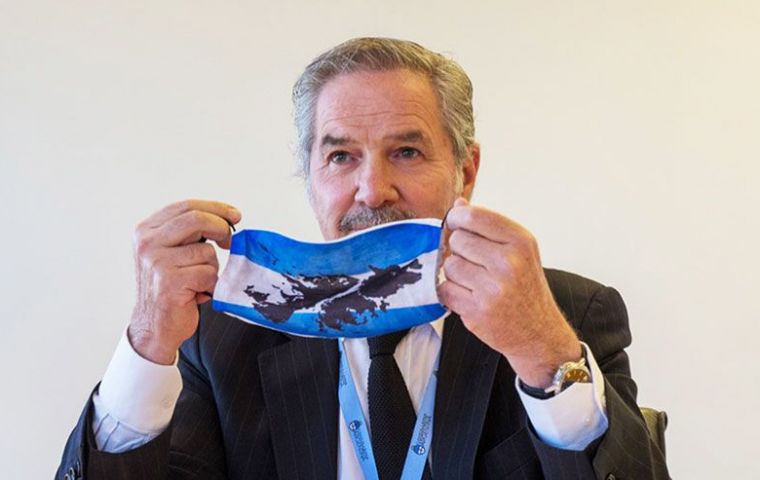 The United Nations Decolonization Committee, or C24, unanimously approved a resolution on Wednesday calling on the UK and Argentina to resume negotiations, so that in the shortest time possible a peaceful and definitive solution to the sovereignty controversy over the Falkllands, South Georgia, South Sandwich islands and adjoining maritime spaces.
The news was published in the official site of the Argentine Foreign Affairs ministry, with no further indications of how the meeting or procedure of the resolution was reached.
However it was an opportunity for Argentine foreign minister Felipe Solá to insist that "the recovery of full sovereignty exercise over the Malvinas is a State policy and a strong feeling of the Argentine people"
Solá added that the C24 manifestly recognizes the existence of a soverignty dispute and calls on Argentina and the UK to dialogue, "and our country once again iterates its standing willingness to negotiate"
The resolution was sponsored by all Latin American countires in C24, Chile, Bolivia, Cuba, Ecuador, Nicaragua and Venezuela, and the release recalls that since 1983, C24 is calling on Argentina and UK to resume negotiations in conformity with Resolution 2065 and other similar statements from the UN General Assembly on the so called Malvinas Islands question.
The ministry release also underlines the unanimous approval by the Argentine congress of the bill creating the National Council for Affairs relative to the Malvinas Islands, "a plural initiative which will help to outline and sustain State policies in the mid and long term"
Finally the release recalls that the UN C24 resolution is shared by other multilateral forums such as the Organization of American States, Mercosur, the Group of 77 plus China, the Community of Latin American and Caribbean States, plus the Ibero-American summits. But despite all, UK continues in its negative stance on the resumption of negotiations.
In reality the UK position has been that any negotiations will depend on the Falkland Islanders and their right to self determination, in other words it is up to the Falklands' people to decide whether they wish to continue as a British Overseas Territory or any other option. However in 2013 a referendum on the issue was held and overwhelmingly, almost unanimously the Falklands voted to remain as a UKOT.