Health care workers in Peru protest demanding better pay and working conditions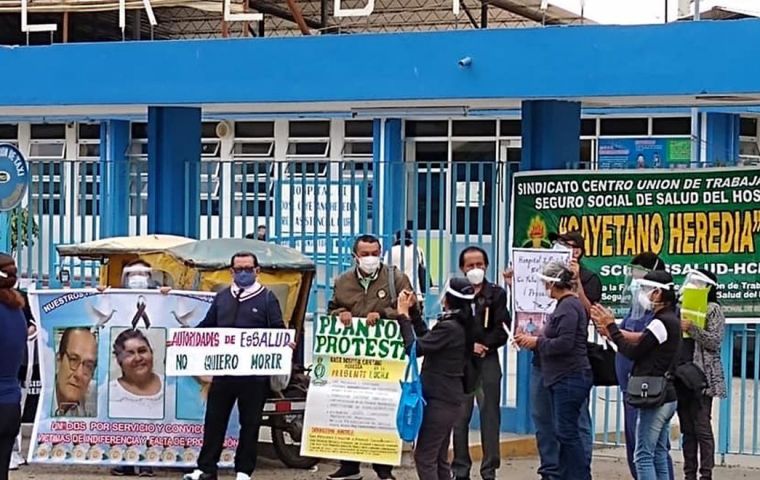 Health care workers in Peru held a demonstration demanding better pay and working conditions as more of their colleagues become infected with the coronavirus. Members of medical workers' unions appealed for government help during a rally outside the Health Ministry.
The workers' plea for aid came on the same day President Martin Vizcarra unveiled an obelisk at the Medical College of Peru in honor of 125 doctors who have died from the coronavirus.
The observance occurred on the same day Peru marked a milestone, surpassing 500,000 coronavirus cases, with Latin America's highest fatality rate.
On Wednesday, president Vizcarra banned family gatherings and extended lockdowns to five more regions of the country amid a fresh spike in cases of the novel coronavirus.
Fifteen of Peru's 25 regions were already covered by rolling lockdowns. Vizcarra announced the return of a blanket Sunday curfew as figures revealed a 75% surge in infections among children and adolescents.
"Now those who are infecting us are the people we know, the relatives who come to visit us, the friends who get together to kick a ball around or enjoy a barbecue," Vizcarra said in a speech broadcast from the Government Palace in Lima. "It is a problem that together we have to solve."
In recent days, Peru has registered a daily average of 7,000 confirmed infections and 200 deaths, according to official data. There have been 489,680 confirmed cases while the dead totaled 21,501 by Tuesday, the Ministry of Health said.