Uruguay extends closure of frontier until the end of January; concern with clandestine partying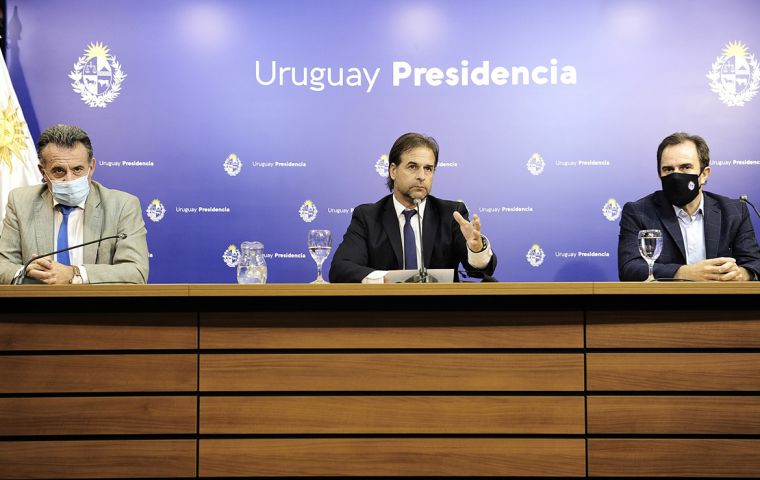 Uruguay announced on Wednesday a raft of new measures to help contain the growing number of Covid-19 positive cases which if sustained could strain hospital and sanitary capacities.
The announcement followed a meeting of the ministerial cabinet and a Tuesday hearing in Congress to report on the current pandemic situation, immunization plans and which vaccines Uruguay is negotiating to acquire.
President Luis Lacalle Pou said that the current closure of frontiers which had been announced last December 21, including a more specific definition of the right of assembly, will be extended until the end of January, with weekly reviews, based on the number of positive cases that have peaked recently, because of a surge in agglomerations coinciding with the end of the school year and the beginning of summer holidays.
The Uruguayan president in a message to the tourist industry said that bars and restaurants, which currently have to close by midnight, will now enjoy the extension of a couple of extra hours, that is to two in the morning. He added that each county Emergency Coordinator Center will decide if the measure can be implemented in its area of influence.
The extension of working hours for bars and restaurants was decided because "there are protocols and controls", said the president underlined that "the messy partying situation is taking place outdoors, it's clandestine" and anticipated a greater intensification and coordination to control outdoor celebrations and festivities.
Likewise some public shows, theaters, cinemas, will be allowed but with a limited number of spectators. Soccer and basketball official matches can resume but with no public present. Government staff when possible will be encouraged to work from homes.
The control of sanitary protocols which must be respected by companies and businesses will be intensified, and those not complying will be exposed to fines and closure. At the same time Lacalle Pou admitted that the number swabbing has decreased but referred it "to less demand and the fact that some staff have gone on holidays"
Nevertheless testing will increase particularly in the capital Montevideo and in Rivera, in the Brazilian border, where twin cities enjoy a shared bi-national urban area.
As to the possible vaccines to be acquired by Uruguay to begin massive inoculation, Lacalle Pou said there are ongoing negotiations with several laboratories, "on numbers and delivery times", but also admitted there is "a global fierce competition, and Uruguay and its small market is not necessarily that attractive for some of labs".
But anyhow "we are keeping track and will purchase the most efficient and safest vaccine". The president also anticipated that in a few months, "people will have access to special passport for those vaccinated, which will enable them to again travel and visit other countries"
Once the contract is signed "we will make the announcement, I'll be the first to let you know, which, how, when and where, give me a few more days".
On Wednesday also Uruguay's National Emergency System, SINAE, announced 947 coronavirus positive cases in the last 24 hours, and some 6,534 swab tests.
SINAE also reported another four deaths (aged 89,88,67 and 65) which brings the total number since March to 221 dead. Finally there is a total of 6,287 positive cases, of which 72 are in ICUs.