Falklands' "Restriction on Movement" declaration in full force until 18 February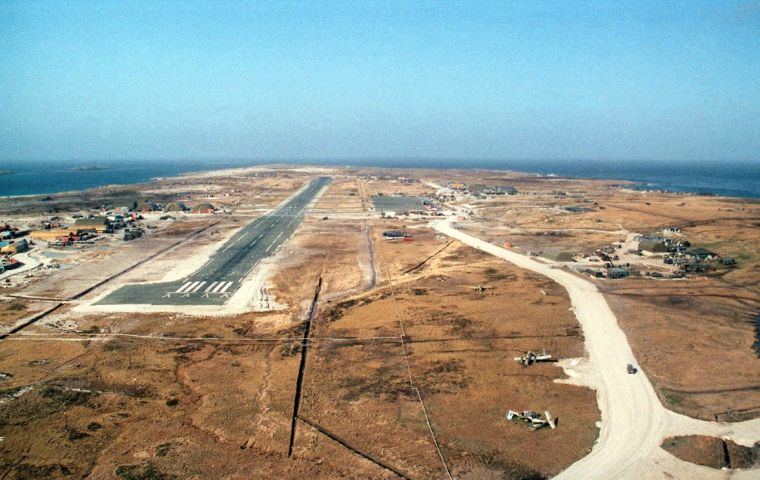 The Falkland Islands Government Executive Council, ExCo, has agreed to the making and publication of a Declaration to bring into force regulations 11 (restrictions on movement) and 12 (restrictions on movement – specified areas) in order to 'prevent, protect against, delay or otherwise control the incidence or transmission of coronavirus in the Falkland Islands.' The regulations form part of the Infectious Diseases Control (Coronavirus) (No 2) Regulations.
Members of the public and the military have previously been asked to restrict their travel between Mount Pleasant Airfield, Mount Pleasant Head Quarters, RADCON and East Cove Military Ports (Mare Harbour Port). However, it is important that people are aware that the following areas are subject to legal restrictions on movement:
• Mount Pleasant Complex
• Head Quarters British Forces South Atlantic Islands, which lies south of Mount Pleasant Complex
• East Cove Military Post/Mare Harbour Naval Port, including the Petroleum Storage Depot and West Jetty
• RADCON, which lies adjacent to the MPA Road
• Mount Alice Remote Radar Head – West Falkland
• Mount Byron Remote Radar Head – West Falkland
• Mount Kent Remote Radar Head – East Falkland
• Fox Bay Remote Helicopter Refuelling Site – West Falkland
These areas are in lockdown, and there should be NO travel in or out of any of these areas, including journeys into Mount Pleasant Complex to or from Stanley or Camp, unless, in limited circumstances, (such as essential work) this is really necessary. Travel to Mount Pleasant in order to travel on the South Atlantic Airbridge is still permitted.
This declaration on restriction of movement was signed by His Excellency, the Governor Nigel Phillips. It is due to expire at 11:59pm on 17 February 2021 and will be reviewed on or before 11 February 2021. The full declaration is available on the FIG website.