Brazil: Supreme Court upholds ruling allowing Lula to run for president in 2022
Friday, April 16th 2021 - 09:59 UTC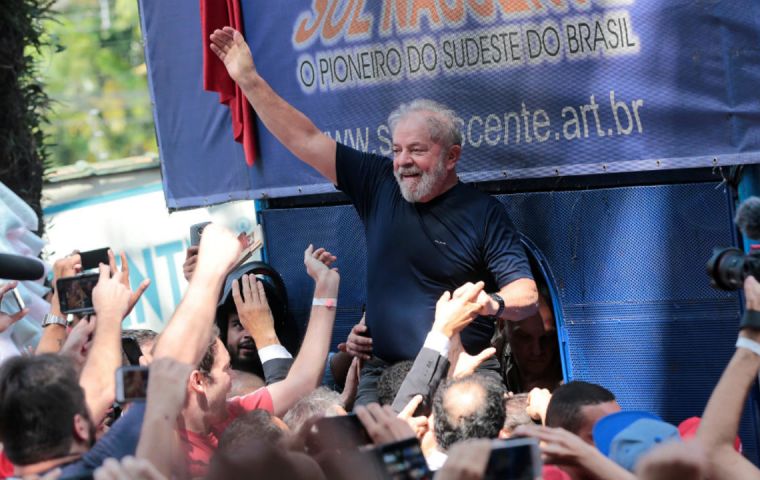 Former Brazilian President Luiz Inácio Lula Da Silva's convictions were annulled Thursday by the country's Supreme Court (STF) in an 8-3 ruling which clears the Workers Party (PT) iconic figure to seek a new term in 2022.
Lula, 75, who spent 580 days in a Curitiba jail before his release in 2019 pending appeal, has announced after the ruling that he would in fact "be a candidate if necessary to beat a fascist-like [current President Jair] Bolsonaro." Polls released Wednesday in Brazil showed Lula would win with 52% of the vote against 34 in a hypothetical runoff.
"A historic day. It took a long time, but it arrived," tweeted PT head Gleisi Hoffmann. "Thank you to everyone who stood by us during this struggle," she added.
The STF upheld Justice Edson Fachin's March 8 decision quashing Lula's convictions on procedural grounds. The ruling does not find Lula innocent, but it essentially puts prosecutors back to square one by sending the cases to another court yet to be determined between São Paulo and Brasilia.
Lula was jailed in 2018 on charges of taking bribes from companies seeking juicy contracts at state oil giant Petrobras. Lula maintains he is innocent and that the case against him was a conspiracy to sideline him politically. He also pointed fingers at the US Department of Justice and at the oil companies in that country.
The charges against Lula grew out of "Operation Lava Jato," an investigation that blew the lid off a massive corruption scheme in which top politicians and business executives systematically siphoned billions of dollars from Petrobras.
"That process has been a very big lie since 2016 my lawyers have shown and proven that it was a lie and a farce: the reality of the process against me has been a PowerPoint that the accusers made and showed that I had created a gang (for an illicit association), but it was not like that," said Lula.
The STF also determined Judge Sergio Moro, in charge of the Lava Jato enquiry, could have not been unbiased, having eventually accepted the position of Justice Minister under Bolsonaro, who turned out to be elected with Lula banned from running at the time. Moro later had a falling-out with Bolsonaro, accusing the president of interfering in federal police investigations. He resigned in April 2020.
Regarding next year's elections, Lula said in a TV interview that " I am 75 years old, I consider that I am in good health and physically well, but we can choose someone who can represent the progressive sectors."
The Brazilian leader was also thankful to Argentine President Alberto Fernández "I "because when he was a candidate he went to see me in jail."