US expels Russian diplomats in retaliation for SolarWinds hack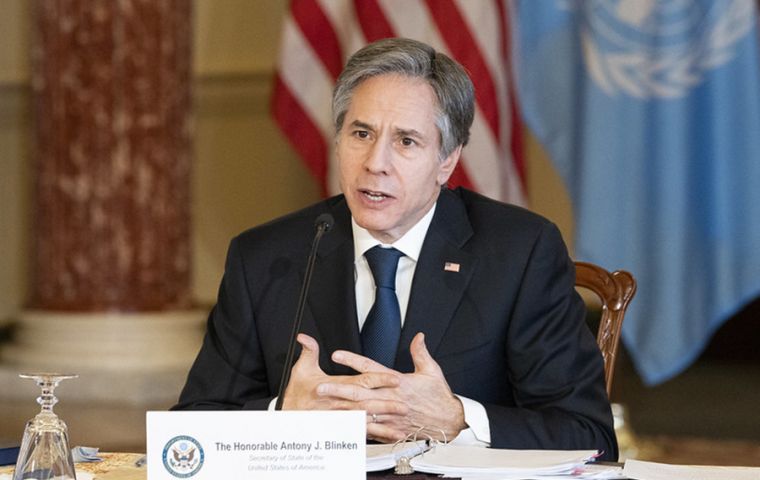 US president Joseph Biden Thursday ordered the expulsion of ten Russian diplomats for allegedly meddling with the elections in what became known as the SolarWinds breach.
It was the first time the government of the United States explicitly linked Russia to the hack, which affected at least 100 private-sector businesses and nine federal agencies. The US also imposed sanctions against nearly three dozen people and companies as it moved to hold the Kremlin accountable for interference in last year's presidential election and the hacking of federal agencies.
The 10 diplomats being expelled include representatives of Russian intelligence services. "The safety and well-being of US military personnel, and that of our allies and partners, is an absolute priority of the US," the White House said Thursday.
Secretary of State Antony Blinken said in a statement that "these actions are intended to hold Russia to account for its reckless actions. We will act firmly in response to Russian actions that cause harm to us or our allies and partners."
The measures target 32 blacklisted entities and individuals from Russian technology and construction firms, according to reports, amid mounting tensions. Russian hackers are believed to have infected widely used software with malicious code, enabling them to access the networks of at least nine agencies in what US officials believe was an intelligence-gathering operation aimed at mining government secrets.
The US also imposed sanctions on six Russian companies involved in illegal cyber activities as well as on 32 individuals and entities accused of attempting to interfere in last year's presidential election.
Biden told Russian President Vladimir Putin this week to "de-escalate tensions" following a Russian military buildup on Ukraine's border, and said the US would "act firmly in defence of its national interests."
After a TV interview last month in which Biden admitted he believed Putin was "a killer," the Russian leader recalled his ambassador to the US and pointed at the US history of slavery and slaughtering Native Americans and the atomic bombing of Japan in World War II.
Former President Donald Trump also expelled Russian diplomats during his tenure in 2018 for Russia's alleged poisoning of an ex-intelligence officer in Britain.
The SolarWinds hack has affected the Treasury, Justice, Energy and Homeland Security departments among other federal agencies. It is still unclear the extent of the information that the intruders may have accessed.
Last month, the US sanctioned seven mid-level and senior Russian officials, along with more than a dozen government entities, over a nearly fatal nerve-agent attack on opposition leader Alexei Navalny and his subsequent jailing.
British Foreign Secretary Dominic Raab said his country sided with the US: "The UK and US are calling out Russia's malicious behaviour, to enable our international partners and businesses at home to better defend and prepare themselves against this kind of action."