Covid-19 cases soar in Peru just days after the elections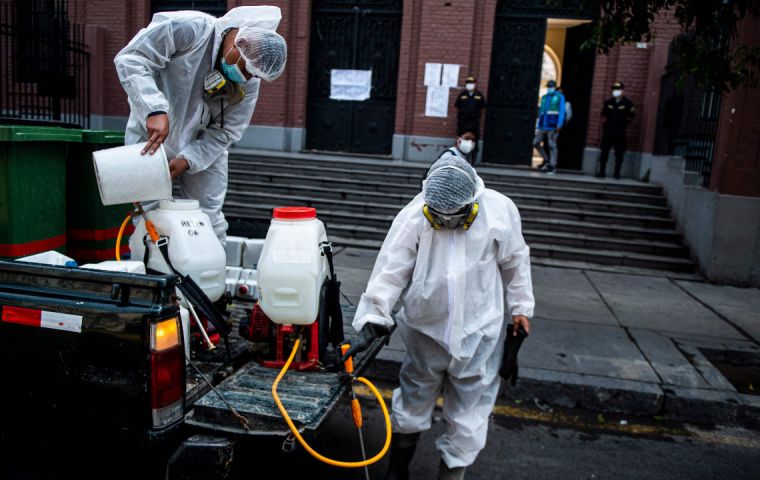 Peru's Health Ministry has recorded 433 covid-19 related deaths, bringing the total toll to 57,230 in 13 months, it was announced Monday. Also, 7,131 new infections were detected Sunday, bringing the total to 1,704,757. The steep increase comes days after the country's general elections.
However, Lima's El Comercio daily has stated that the National Death Information System (Sinadef) showed an accumulated total of 153,436 deaths from Covid-19.
The data gap is because the cases confirmed by the Ministry and which amount to only 37% of all fatalities are those who have been conclusively determined to have died of covid-19 while the remaining 63% are victims with symptoms compatible to those caused by the coronavirus, but whose causes of death are yet to be established.
According to El Comercio, only one in four deaths labelled as of covid-19 in the first quarter of 2021 were ratified as having been due to the pandemic.
Peru is currently facing a coronavirus second wave with around 15,000 patients hospitalized, 2,600 of them in intensive care.
The confinement measures had been suspended to carry out the electoral campaign and the April 11 in a country of 33 million people where voting is compulsory. A mandatory quarantine is to be reinstated as of April 25 in Lima and 41 of the 196 Peruvian provinces, mainly in the Andean region and on the Pacific coast.
The runoff between ultra-left-wing candidate Pedro Castillo and the ultra-conservative Keiko Fujimori is set for June 6.