Canada bans air traffic to and from India, Pakistan as covid-19 cases soar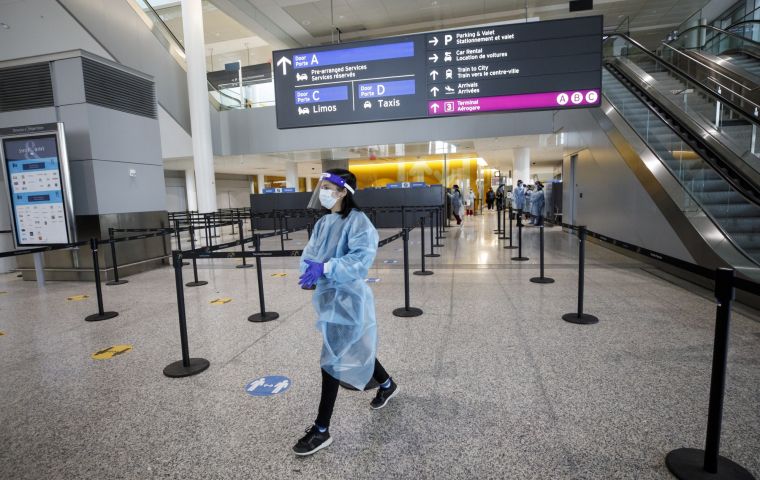 Canada has banned all flights arriving from Pakistan and also from India, where the spread of the coronavirus pandemic seems to have to ceil.
"Given the higher number of cases of COVID-19 detected in air passengers arriving in Canada from India and Pakistan, Transport Canada is issuing a notice to airmen, or NOTAM, to halt direct passenger air traffic from those countries," said Canadian Transport Minister Omar Alghabra at a joint press conference with other Canadian ministers.
Indian health authorities have reported 346,786daily infections, which raises the provisional count since the start of the pandemic to 16,610,481, with the death toll standing at 189,544.
Prime Minister Narendra Modi met with the heads of government of the ten states hardest hit by the pandemic on Friday in search of a consensus. Meanwhile, the Government is trying to alleviate the oxygen deficiency that is already extreme in some areas and has imported generators from Germany.
Alghabra said the ban is implemented as more passengers arrive in Canada with positive test results. However, if travellers departing from those two countries take an indirect route, they'll be required to show a negative PCR test at their last point of departure. Once they arrive in Canada, they will have to follow the standard protocols, unless exempt, including taking another test and booking a stay at a designated government hotel while they await their results.
Health Minister Patty Hajdu said the ban will allow Canada's public health experts to collect more data about the epidemiology in those regions. "I want to say that our hearts are with the citizens of India, Pakistan, indeed the whole region during these incredibly difficult times. In the meantime, we'll continue to apply stringent testing and quarantine measures for all passengers arriving in Canada," she said.
In Pakistan, Prime Minister Imran Jan Friday ruled out a full-scale lockdown in the country's biggest cities but warned the situation may soon resemble that in India. "If our circumstances become similar to those of India, we will have to close the cities," Jan said. "We cannot do it, as experience shows that the poor suffer the most when confinement is imposed," he argued.
In a letter to Canadian Prime Minister Justin Trudeau earlier on Thursday, Both Ontario Premier Doug Ford and Quebec Premier Francois Legault called on the Trudeau government to cut the number of international flights arriving in Canada and impose greater restrictions at the Canada-U.S. land border.