Peru Libre candidate Pedro Castillo hospitalized with respiratory problems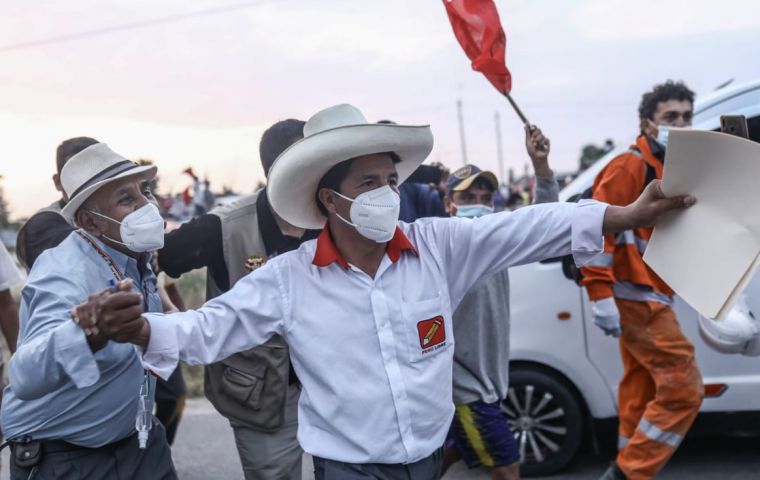 Peruvian presidential hopeful Pedro Castillo was hospitalized Thursday with a "respiratory decompensation," his party Peru Libre announced.
The leftwing Castillo won the first round of the presidential elections and is now to face second-place finisher, the Conservative Keiko Fujimori in the June 6 runoff.
"Dear compatriots: I thank you for convening yourself today in different places in Lima. However, due to health issues, I inform you, with regret, that I will not be able to attend. My hug and apologies to all those who arrived. We will know reward this moment," Castillo posted on Twitter.
Castillo's Perú Libre party also wrote: "Our candidate Pedro Castillo is being transferred urgently to a clinic in Lima due to a respiratory decompensation. The activities scheduled for Thursday are suspended."
It is yet unknown whether Castillo will now be able to attend Saturday's (May 1) debate with Fujimori. Or shall it be Sunday, following Fujimori's wish?
Castillo had challenged Fujimori: "We are not in a dictatorship that you are used to. If you are in such a hurry to debate, I will wait for you this Saturday at 1 in the afternoon in the Plaza de Armas in Chota," he tweeted. Chota is Castillo's native town.
But Fujimori replied that if he got to choose the venue it would be her turn to pick the day and time: "I accept Pedro Castillo's challenge to debate in Chota, but I set the time and date: this Sunday 8 pm for the whole country to see us live and direct. Don't run Pedro, don't run," said Fujimori in a video that went viral through social media.
Peru Libre had earlier denounced that Castillo received death threats during the campaign for the second round. "Our party denounces the threats against the life of our presidential candidate, Pedro Castillo Terrones, in addition to warning the possibility of actions involving the use of explosive devices, especially in Metropolitan Lima," tweeted PL.
Castillo, who was touring the country as part of his runoff campaign, addressed the issue of threats and assured that "some bombs are being planted in Lima."