Brazil: Court upholds impeachment of Rio de Janeiro Governor Witzel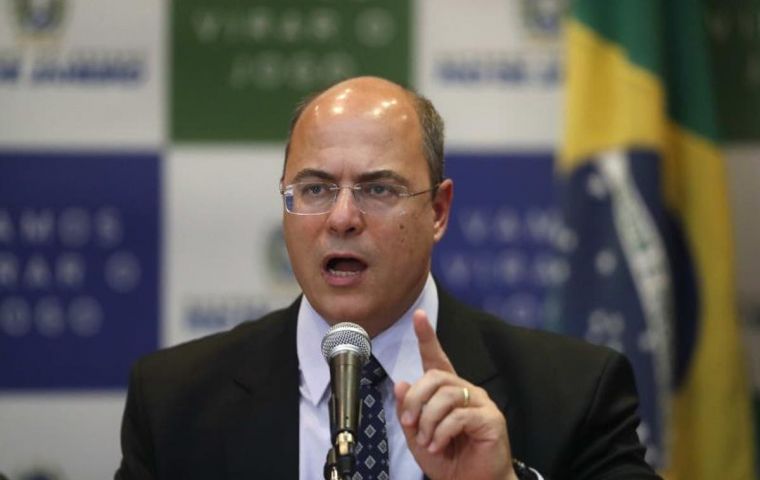 Former Governor of Rio de Janeiro Wilson Witzel's impeachment has been upheld unanimously Friday by the Special Mixed Court (TEM), which means he has been permanently relieved from office and is furthermore ineligible for the next five years.
Witzel had been charged by a Federal Prosecutor for participating in a scheme of diversion of resources destined to the fight against the covid-19 pandemic. The ten judges - five deputies and five judges - voted for the permanent removal from office. For the impeachment to be confirmed, seven votes were needed. And only one of the votes, that of Congressman Alexandre Freitas, partially dissented and proposed a four-year ban.
Witzel is the first governor to be permanently removed by an impeachment process since the return of democratic rule.
Interim Governor Cláudio Castro (PSC) will now be appointed as the new Governor, but is also an ally of President Jair Bolsonaro and under investigation in the same alleged corruption scheme which led to Witzel's impeachment, which would consist of hiring Social Organizations (OSs) Unir and Iabas to provide health services in exchange for a 20% bribe of the values of contracts. Witzel is suspected of receiving at least R$ 554,200 (about US $ 100,000) in bribes.
The discovery of the alleged criminal scheme began with the investigation of irregularities in the contracting of field hospitals, ventilators and medicines to combat the pandemic of the new coronavirus. Witzel denies all charges. In his Twitter account, shortly after the impeachment decision, he criticized the court and claimed he did not have a fair trial.
In February, the Special Court of the Superior Court of Justice (STJ) unanimously approved the receipt of the complaint against Witzel. He is a defendant for passive corruption and money laundering and the process could lead to his arrest.
The Federal Public Ministry discovered a sophisticated criminal organization, made up of at least three power groups headed by the governor. For two decades, the most touristic state in the country has been punished for corruption and all its governors in this century are or have been in jail. The most representative of them all is Sergio Cabral (2007 to 2014), who has remained behind bars since 2016, after being found guilty in 14 corruption cases and facing sentences totalling 294 years in prison.