Bolsonaro thanks Putin for release of footballer's driver wrongly arrested for drug trafficking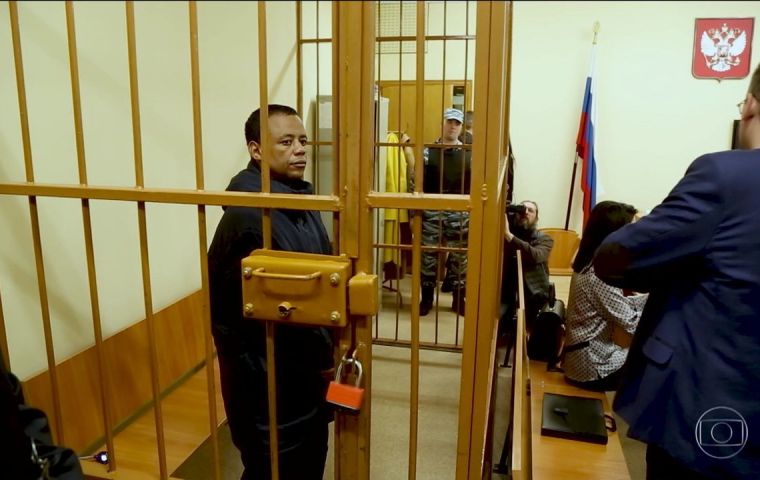 Brazilian President Jair Bolsonaro Sunday thanked his Russian counterpart Vladimir Putin for the release of Robson Oliveira, the driver of former Spartak Moscow footballer Fernando Martins, who was arrested upon arrival for carrying a banned substance.
Bolsonaro explained on Twitter that "Robson spent two years in custody in Russia and today we extend appreciation to President Vladimir Putin, the Russian ambassador in Brazil and our ambassador in Russia."
The controversial Brazilian President added that "the release of Robson was announced today after lengthy talks with the Russian government."
Oliveira was arrested in 2019 during an attempt to bring to Russia methadone hydrochloride, a pharmaceutical prohibited in the country. The drug was said to be intended for the footballer's father in law. Robson faced up to 20 years of imprisonment on charges of drug trafficking.
"I am going to give news that all Brazilians are interested in: After a long negotiation, the Russian Government announced the release of Robson (Oliveira), who worked with the soccer player Fernando," Bolsonaro also said on Twitter.
The president insisted that the medication seized from Oliveira "was allowed to be used in Brazil."
Also involved in the negotiations leading to the driver's release besides the mutual ambassadors, were members of Brazil's House of Deputies Foreign Relations Committee as well as Palmeiras Captain Felipe Melo, who acted as some sort of a spokesperson for the players' guild.
According to Bolsonaro, Oliveira will be arriving in Brazil next Thursday.
Bolsonaro also released images of a telephone conversation with Oliveira himself during the Brazilian ambassador's visit this Sunday to the prison in Moscow to convey the news about his release.
Since mid-2019, Fernando Martins left Spartak Moscow for Chinese club Beijing Guoan.
Martins started his career at Porto Alegre's Gremio and also played for the Ukrainian club Shakhtar Donetsk and Italy's Sampdoria before joining the Russian squad.
Oliveira's family has since accused the footballer of having failed the driver for not indicating to the Russian authorities that the driver was merely following his instructions.