Colombia still shattered by unrest and demonstrations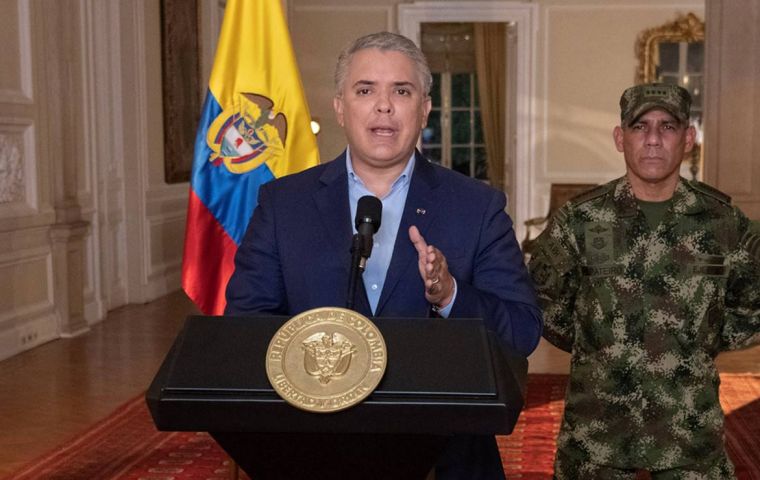 Colombia's National Unemployment Committee, an opposition group which brings together some 40 organizations, Wednesday staged another row of demonstrations nationwide against policies carried out by President Iván Duque, who insisted on regarding these actions as "extreme vandalism and urban terrorism"
It was the seventh straight day of anti-government marches in the country's main cities. Except for clashes between protesters and police in the Plaza Bolívar in Bogotá all the other marches were uneventful, it was reported.
"The threat of vandalism that we face consists of a criminal organization that hides behind legitimate social aspirations to destabilize society, generate terror among citizens and distract the actions of the public force. The extreme vandalism and urban terrorism that we are observing are financed and articulated by the drug trafficking mafia," said Duque in a pre-recorded TV speech, despite the 26 people dead over the past few days and more than 800 injured amid unmatched police brutality which went viral worldwide on videos relayed on social media.
What began as a protest against a tax reform bill Duque has already withdrawn from Congress and even dismissed the Finance Minister who drafted it, has now become a mass movement with additional demands such as guarantees and democratic freedoms, constitutional guarantees for mobilization and protest, demilitarization of cities, cessation of massacres and punishment of those responsible, plus the disarming of the police Anti-Riot Squad (Esmad), the withdrawal of Bill 0 on Health, strengthening the vaccination campaign against Covid-19 and a basic income of at least one monthly minimum wage to cope with hardships resulting from anti coronavirus restrictions.
There were rallies and road blockades in Bogotá, Medellín, Cali, Bucaramanga, Armenia, Ibagué, Sincelejo, Ciénaga and Zipaquirá, among other cities.
But not only did Duque endorse the actions of the military and police forces, he even offered 10 million pesos (2,600 dollars) for effective collaboration to identify and arrest perpetrators of the riots.
Standing next to Vice Marta Lucía Ramírez, Duque announced that the pictures "of the most wanted for these crimes in different cities will be published by the national police."
"Against those who commit this type of crime, there will be no truce and the entire society will bring them to justice," Duque said.
The president relies on the State Prosecutor's Office to warn that behind the excesses - many in Cali and on Tuesday in Bogotá - are dissident groups of the FARC guerrillas who no longer adhere to the 2016 peace agreement; the ELN guerrillas and drug gangs.
The organizations calling for the marches, on the other hand, maintain that it is the security forces that infused the demonstrations with violence.
Due to Wednesday's demonstrations, the Mayor of Bogotá suspended vaccination, home care and Covid-19 testing.
And in Cali, the epicentre of recent riots, authorities had to organize a "humanitarian corridor" to guarantee food supplies to the city.
A peaceful solution through dialogue is not in sight at this time.