Warlike tensions between UK, France over Jersey fisheries subside, for now
Friday, May 7th 2021 - 09:01 UTC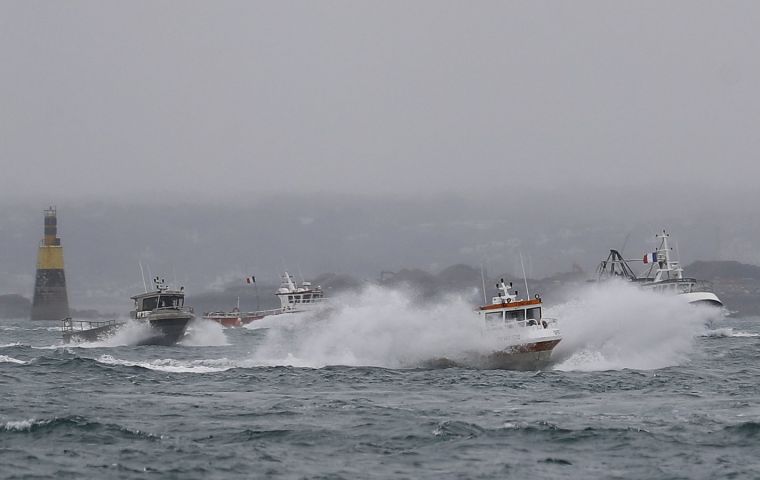 The Royal Navy late Thursday withdrew two vessels off Jersey Island, thus easing tensions with France over fishing rights and a demonstration by trawlers in demand of access to waters under a different legal status since Brexit.
HMS Severn and HMS Tamar had been sent to "monitor the situation" in "unwavering" support for Jersey, as British Prime Minister Boris Johnson had put it.
"We come today because we have always fished in the waters there. We have always fished here, and then overnight, they take away all our fishing rights," French trawlerman Ludovic Lazaro, who was among those taking part in the demonstration, told Agence France-Presse.
Jersey is a "Crown Dependency," meaning Britain is responsible for its defence, due to which the two Royal Navy vessels stayed some 20 kilometres apart from French warships Athos and Themis.
"Given the situation is resolved, for now, the Royal Navy Offshore Patrol Vessels will prepare to return to port in the U.K.," Downing Street said Thursday in a statement. "We remain on standby to provide any further assistance to Jersey requests."
Dimitri Rogoff, president of the fishing association in the French Normandy region, said "the show of force is over. Now, it's politics that has to pick up the baton."
Under Britain's exit deal from the European Union (Brexit), French trawlers operating off Jersey for at least 10 days a year between 2017 and 2020 have the right to continue doing so in the future, but Jersey authorities have taken a very restrictive approach to prove that status, for which the French flag alone is not enough.
Ian Gorst, external relations minister for the government of Jersey, explained that "the new post-Brexit trade deal is clear that evidence had to be provided of the nature and extent of historic fishing rights."
In retaliation, French Maritime Minister Annick Girardin threatened to cut off Jersey's electricity supply. "As far as Jersey is concerned, I would remind you, for example, of the transport of electricity by submarine cables," Guardian had said Tuesday.
The incident may be over but the dispute is now up to London, Paris and Brussels to untie the knots of these "technicalities." Tensions concerning fishing are likely to continue as Britain seeks to fulfil its Brexit promise to "take back control" of its waters and borders. But it will be a tough job for the British government, now in charge of the G7 presidency and the face of global expansionism from China and Russia.
Only 41 French trawlers have so far been allowed to fish in the area out of 344 who had requested it, which triggered the deployment of some 50 boats in front of Saint Helier, the capital and main port of Jersey, which nearly constituted a de facto blockade.