Peru's government extends state of emergency for yet another month as presidential runoff looms over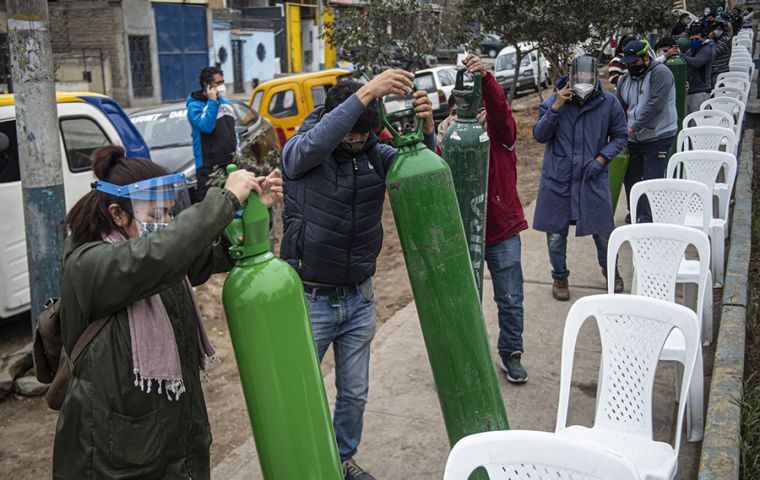 The government of Peru Thursday decided to extend the current state of emergency, which has been in force since March 2020, for yet another month to bring down the number of covid-19 infections, it was announced. Current restrictions were to end on May 31.
The measure came just a few days before the June 6 presidential runoff between left-wing candidate Pedro Castillo and the conservative Keiko Fujimori.
"The exercise of constitutional rights relating to personal liberty and security, the inviolability of the home and the freedom of assembly and transit in the territory is restricted," says the resolution.
Earlier this week, the Government had announced a two-day curfew in the province of Arequipa, intending to avoid contagion by crowds and demonstrations before the presidential debate that will take place there on Sunday.
"We have decreed the mandatory social immobilization in the province of Arequipa for May 29 and 30, remember that on Sunday 30 will be the debate of presidential candidates in that city," Education Minister Ricardo Cuenca told the media.
Arequipa Governor Elmer Cáceres had announced this week that he would ban public meetings of supporters of both candidates citing the risk of Covid-19 infections. "In Arequipa, rallies are not going to be allowed, these are infectious sources of Covid-19, many people suffer. Castillo and Keiko are again irresponsible, they are agents of death," said Cáceres.
Castillo, 51, won the presidential elections on April 11 with 18.9% of the votes, while Fujimori, 46, came in second with 13.4%.
The Government also announced that there will be a 24-hour national curfew for Father's Day, which is celebrated on June 20, to restrict social gatherings that can cause increased infections of the disease.
"The whole country will be in mandatory social immobilization on Father's Day, June 20," Cuenca added.
Since March 2020, a night curfew has been in force in the country as a preventive measure to contain covid-19 infections. Peru is going through a second wave of pandemic, dominated by the Brazilian variant of the coronavirus. Over 68,000 people have died from coronavirus in Peru while 1.9 million were infected with the disease in the country of 33 million people, according to the Ministry of Health.