HMS Protector equipped with drones for polar extreme missions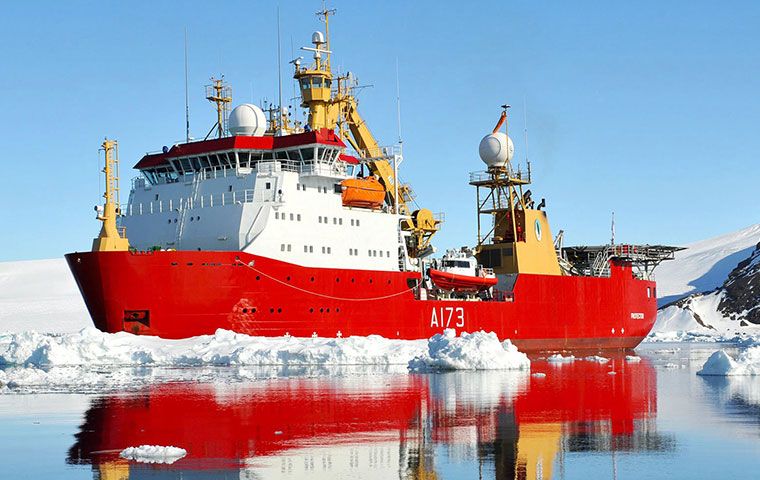 Royal Navy's Ice Patrol Ship HMS Protector has been assigned two small rotary-wing drones, specially adapted for her unique mission in the polar extremes. Although the Devonport-based survey ship has a large flight deck, with no hangar she cannot take helicopters with her – unlike her predecessor HMS Endurance, which carried two Lynx.
The two small Sky Mantis Remotely-Piloted Aerial Vehicles from Surrey firm Evolve have been given the same numbers as the (long-retired) Lynxes 434 and 435.
They can operate in sub-zero temperatures for up to an hour at a time, sending high-definition video (including 30x zoom and infrared imaging) back to their operators – all members of Protector's 48-strong ship's company.
They were trained by the Royal Navy's sole drone squadron, 700X, based at /Culdrose near Helston, then continued to train with the 7.6kg drones at HMS Raleigh in Torpoint, much closer to the icebreaker's home.
The main mission for the two small aircraft will be scouting for 'ice leads'.
"When operating in the ice we will always look for the path of least resistance, as this reduces the long term strain on the engines and hull," said survey specialist/hydro-grapher Lieutenant Adelaide Banyard.
"It is very easy to 'chase a lead', an area with less-concentrated ice, but that might not actually take in the direction we want to."
Instead, the drones will be launched to find the ice leads and the positions/locations will then be inputted into the navigation system and the team can work out the best compromise route.
The ship also plans to use the drones to provide 'over-watch' – providing additional safety for sailors as they carry out fishery boarding operations on behalf of the Foreign Office and Commission for the Conservation of Antarctic Marine Living Resources, or looking out for teams put ashore by scouring the area for dangerous animals.
And there's also the potential for using the drones in the aftermath of a disaster, to gather information about the area affected and allow the sailors and Royal Marines to determine where or who to help first.
"This is an amazing piece of kit to be working with," said Protector's First Lieutenant and senior drone operator Lieutenant Commander Robbie Nash.
"We have been continually learning with this system as we are the first Royal Navy ship to have its own remotely-piloted aerial system. Hopefully we have demonstrated a viable route for other units to source and develop their own drone capability."
His ship is currently undergoing Operational Sea Training ahead of her return to the ice following the most extensive refit/maintenance period in her history.