CFK acquitted in corruption cases: Operations were legit, judges said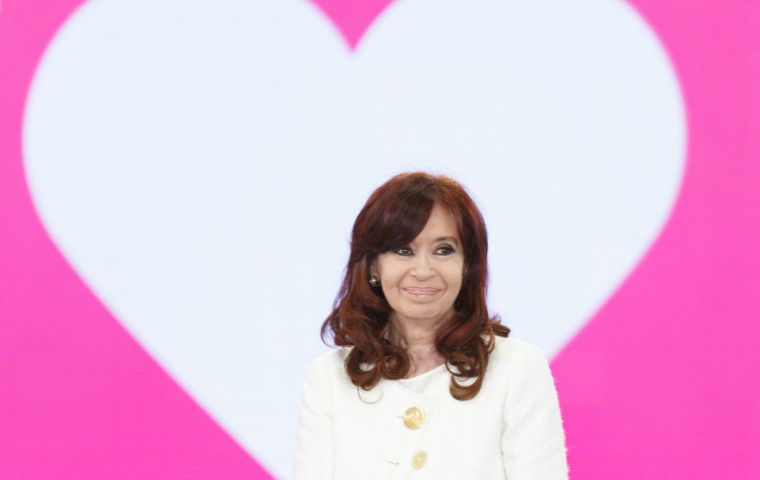 Former Argentine President and current Vice President Cristina Fernández de Kirchner and her children will not be tried in the so-called Hotesur so-scandal case because there were no illegal actions involved, a federal court in Buenos Aires ruled Friday. Hence, all charges have been dismissed.
Oral Court number 5 found defendants Cristina Fernandez de Kirchner, her children Máximo and Florencia Kirchner, businessmen Lázaro Báez, Cristóbal López, Fabián de Sousa and 18 others has committed no crime, particularly no money laundering and the public funds and profits from the Hotesur and Los Sauces undertakings.
The judges found profits always stemmed from legitimate operations at actual market prices, according to the reports submitted to the courts by the accounting experts. Regarding the illicit association between the Kirchners and the businessmen, it would be the same association already under trial for the "Santa Cruz roads" case and nobody can be judged twice for the same crime, the magistrates found in a split decision by two votes to one.
As it happened in the "future dollar", the "Memorandum with Iran" or the "Plan Qunitas" cases, new expert reports showed that there were no crimes and charges have been dismissed.
The late Judge Claudio Bonadio was found to have built up these cases in an unsubstantiated manner, the upper court said.
In the Hotesur-Los Sauces cases, the prosecution believed there were surcharges in the construction of roads and that businessmen Lázaro Báez, Cristóbal López, Fabián De Sousa had paid bribes to the Kirchner family in the form of rental money. But the Court ruled those operations had been legitimate and at a market value - hence, no crime because the money involved had always been channelled through the tax bureau (AFIP) and there was nothing questionable about those transactions.
Money laundering consists of converting money from a previous crime into money "that has the appearance of legal origin," but everything was clear from the beginning, Friday'¡s decision found, including works which were voted in the National Congress, decrees and administrative decisions, even a good part signed by the former cabinet chiefs Alberto Fernández, Sergio Massa, Jorge Capitanich, Aníbal Fernández, none of whom was ever charged.
At some point, it was said that, for example, Aerolineas Argentinas crews stopped at the Hotel Alta Patagonia, which was said to be a shady deal. But the contract had been signed before the Kirchner family owned the hotel and the airline was repossessed by the national State. Therefore, these operations involved no laundering.
Regarding illegal association, the magistrates said the fact was already under investigation in separate trials and the non-bis in idem principle applied. Nobody can be judged twice for the same crime.
And Florencia Kirchner was nine years old at the time some of the partnerships were established, the judges found.