Cabello judicially seizes Caracas' El Nacional newspaper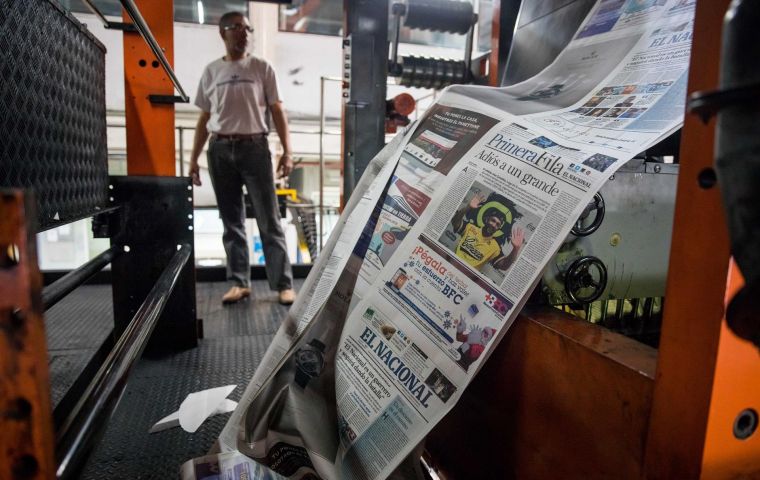 Caracas' El Nacional newspaper has been handed over to United Socialist Party of Venezuela Deputy Chairman Diosdado Cabello Rondón, thus executing a judiciary ruling issued late in January in a damages suit against the publication.
Judge Lisbeth del Carmen Amoroso Hidrobo directed the proceedings whereby Cabello took control of the publication, including its real estate property, machinery and equipment, as workers were evicted from the premises by the Army. It is speculated that the new staff will be fully in line with the Chavist doctrine.
Cabello had sued El Nacional, claiming he had been damaged morally for its s critical stance regarding the Government of President Nicolás Maduro. Judiciary authorities said Cabello was entitled to monetary compensation for an undisclosed amount and received the newspaper as pay.
The El Nacional website already acknowlewdges the outlet had engaged in various illegal practices: Judge Amoroso Hidrobo is the sister of Comptroller General Elvis Amoroso Hibrodo. The magistrate carried out the expropriation without publicly informing the date, time and amount to be paid to the plaintiffs.
Cabello has vowed to use the land to either build a new university or housing for the needy.
El Nacional's outgoing editor Miguel Otero said his voice would not be silenced with this move. "We are the most consulted digital media outlet in the country on Venezuelan affairs." Otero highlighted this case of "judicial intimidation" will not prevent him from continuing to publish critical comments against Maduro's regime.
El Nacional had published in 2015 that Cabello was being investigated in the United States for alleged drug trafficking, which Cabello has constantly denied. In May 2018, the US Treasury Department froze Cabello's assets and issued a travel ban against hime, while Washington claims he is behind drug shipments from Venezuela to Europe.
The Court court "directly awarded ownership of the headquarters of El Nacional, and the lots of land on which it is built, to Diosdado Cabello," Otero explained on Twitter.