Former Peruvian President back in jail after hospital discharge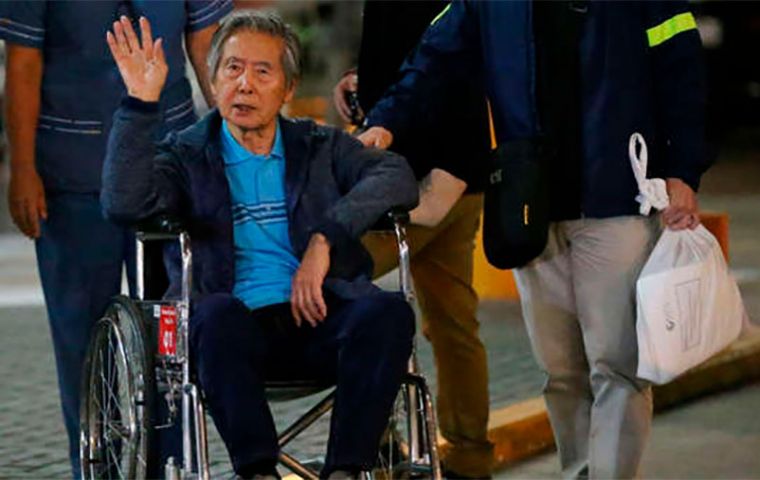 Alberto Fujimori has been discharged Monday from the private Lima clinic where he had been taken to earlier this month due to a heart failure and was subsequently taken back to jail, his daughter and opposition leader Keiko Fujimori announced.
"My father was discharged today from the Centenario Clinic to continue his treatment at the Barbadillo prison. During the day he was taken to the El Golf Clinic for analysis of the progress of his pulmonary fibrosis," she posted on Twitter.
"He will continue under strict medical observation for his two main ailments: fibrosis and atrial fibrillation. I thank you, on behalf of my brothers, for your concern and ask for your prayers for his speedy recovery," she added.
Keiko Fujimori also explained that the 83-year-old former ruler "was taken to the El Golf Clinic for the analysis of the progress of his pulmonary fibrosis."
Alberto Fujimori was rushed March 3 from the prison built especially for him at a police base in eastern Lima to a public hospital near the prison, due to his critical condition. According to his family doctor, Alejandro Aguinaga, Fujimori's oxygen saturation was low and his heart rate rose from 40 to 160. After being stabilized, he was taken to the private clinic Centenario, where he is treated whenever necessary.
The former president is serving a 25-year prison sentence for crimes against humanity (the death of 25 people in two massacres) and confessed corruption committed during his iron-fist government (1990-2000). Both massacres were perpetrated by a Peruvian army death squad in alleged anti-terrorist operations during his administration. Fujimori has permanent medical attention and an ambulance on standby in case of any emergency. Fujimori also suffers from recurring respiratory and neurological problems (facial paralysis) and hypertension.
The administration of President Pedro Castillo had announced months ago the government's intention to transfer Fujimori to a common prison because of the cost of keeping him in his current detention facility and because no inmate should have privileges.
"Former president Fujimori is being duly attended to" like the rest of the inmates, Cabinet Chief Aníbal Torres said. However, he insisted on the possibility of transferring him to another jailhouse "when he heals" in order to put an end to what he described as a "golden prison."
Keiko Fujimori has long insisted the Government's threats in that regard helped deteriorate her father's health.