Day of the Guaraní language celebrated in Paraguay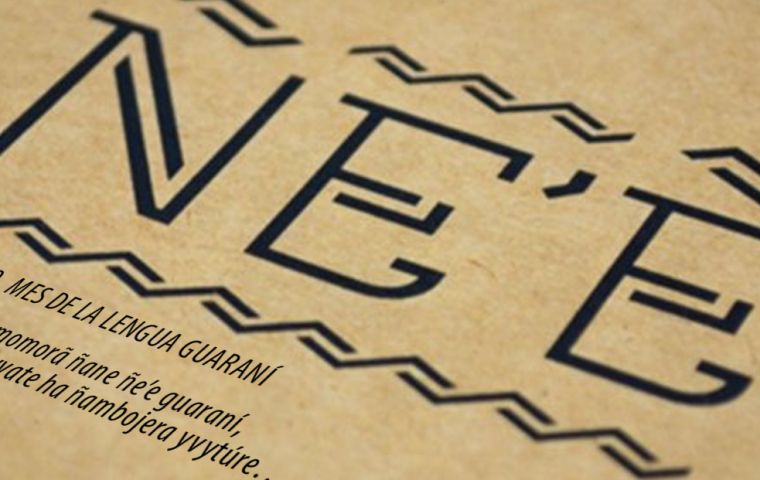 Marking another anniversary of the enacting of Paraguay's Constitution of 1967 which declared it as the country's second official language, local authorities Thursday celebrated one new episode of Guarani Language Day. The country's other official language is, of course, Spanish.
According to the latest data from the National Statistics Institute (INE), in Paraguay, there are currently 33.4% of the population aged 5 and over who speak Guaraní most frequently in the home. Meanwhile, 34.7% speak Guaraní and Spanish (bilingualism), and only 29.6% speak Spanish or Castilian more frequently. Another 2% speak foreign languages.
"More than anything, to commemorate a day, is to encourage people. A language dies when it no longer has speakers. In Paraguay, we still have many speakers and that is a hope, but, in an oversight, the language can also be abandoned, especially when children and young people stop speaking it. That will always be a threat to the vitality of the language. Celebrating Guarani Language Day also means using this day to commit ourselves to the language and encourage people to use it," Minister of Linguistic Policies Ladislaa Alcaraz de Silvero told Asunción's La Nación.
"After 3 decades, we should already see Guaraní in the country, but until today we are only hearing it, we are not yet seeing it written. We are still not overcoming orality," the official added. The 1992 Constitution added compulsory teaching of Guarani at schools.
Alcaraz admitted there has been some progress with measures such as the one creating the Academy of the Guarani Language, "which establishes the regulations for a standardized written use of the Guarani language."
Today's Guarani "covers areas of communication and interaction that it did not cover before," she also explained. "Linguistic units have been created and are working on the promotion and oral and written use of the Guaraní language," she added.
Technology is also adapting to Guarani, with "browsers, search engines [and] translators in the Guarani language, which is important to have at our fingertips, because they enable us to access this language, to know it better, to study it more," the official also highlighted.
Guarani is also spoken in some regions of Argentina, Brazil, and Bolivia. Since 2006 it has also been one of the official languages of the Southern Common Market (Mercosur). Alcaraz spoke about the great Guarani nation that includes Argentina, Brazil, Bolivia, and Paraguay and underlined that Guarani is an official language in Bolivia and in some Argentine provinces, while in Brazil the language is widely used.