Runasur launched in Buenos Aires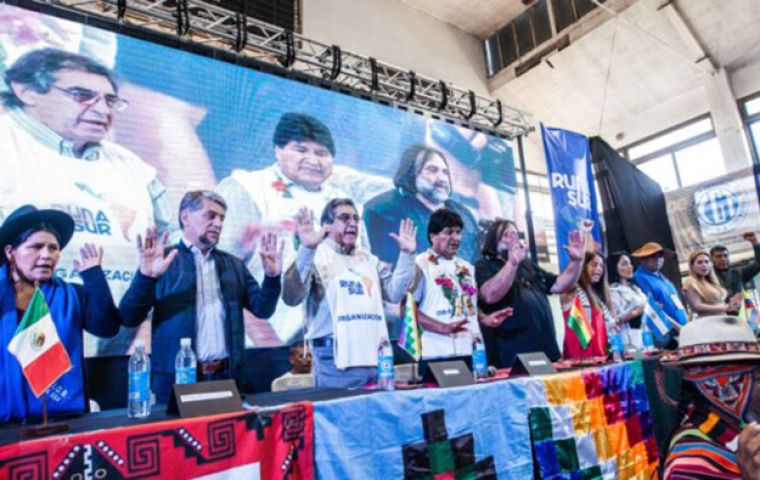 Delegations from Argentina, Bolivia, Brazil, Chile, Ecuador, Guatemala, Mexico, Nicaragua, Panama, Paraguay, Peru, Uruguay, and Venezuela Sunday formally signed Runasur's "Declaration of Buenos Aires," launching the group promoted by former Bolivian leader Evo Morales.
The organization favors a "plurinational, anti-imperialist and anti-capitalist America" to defend the unity of indigenous peoples, popular movements, women, youth, Afro-descendants, and trade unions, it was explained.
The ceremony was held at the Banco Nación premises on the outskirts of the city of Buenos Aires after two days of deliberations.
"We are constituting a movement of the peoples, Runasur, with a very concrete proposal, which is the responsibility of constituting the plurinational America of the peoples for the peoples," Morales explained.
"This social, cultural, workers' movement must be anti-capitalist and anti-imperialist," he added.
Morales told Xinhua that Runasur, born on April 25, 2021, takes its name from the conjunction of the Quechua word "runa" (man) and Unasur (Union of South American Nations), to condense the idea of a Unasur of the peoples.
"Unasur is of the States. Runasur is of the peoples. Runa in Quechua says 'person' or 'people', and as we lost several leftist presidents in South America, Unasur was paralyzed and comes this deep feeling of the peoples, of the social forces, to continue with the policies of Unasur," he went on.
"Enough of being told that Latin America is the 'backyard' of the United States or that Latin America is the neighborhood of the United States," the Socialist leader also stressed.
Plurinationality "is the union in diversity to face the adversity left to us by the capitalist system. I am much more convinced, after having been president, that cultural diversity is the wealth" of the region, Morales also said.
"Plurinationality is the unity of diversity, guaranteeing sovereignty, independence, dignity, freedom, identity, to face adversity", in addition to questioning the United States for promoting a system of concentration of capital in few hands, he elaborated.
"As long as capitalism exists, the struggle continues, because capitalism and imperialism bring injustice and inequality, and when they cannot dominate, win democratically, there come the military interventions," he also noted.
"What democracy can the United States talk about, that the only thing it knows how to do is how to execute economic blockades to liberated countries, plan and invest in coups d'état or military interventions with military bases?" he wondered.
During Sunday's meeting, the dignitaries also read out a declaration highlighting the electoral victories of Gustavo Petro in Colombia and Luiz Inácio Lula da Silva in Brazil, in addition to rejecting the political persecution and criminalization of social leaders in the continent, as well as the economic blockades of Cuba, Nicaragua, and Venezuela.
The "Plurinational Assembly towards a Plurinational America", which constituted Runasur, ended after the reading and signing of the "Declaration of Buenos Aires on the situation of Latin America and the Caribbean."
(Source: Xinhua)