Argentine FM fears Uruguay's solo run might lead to Mercosur breakup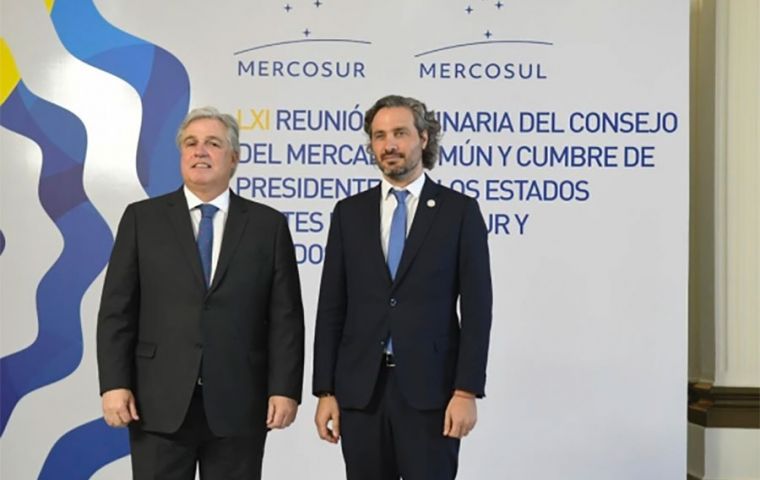 Argentine Foreign Minister Santiago Cafiero Monday said in Montevideo ahead of the Mercosur Presidential Summit that Uruguay's one-sided negotiations with foreign blocs could end up in the dissolution of the South American Common Market.
"We see with concern that a path is being taken that seems to be unilateral, and that very probably could lead to a rupture," Cafiero said while underlining President Alberto Fernández's concern regarding "certain unilateral attitudes, aimed at bilateral negotiations with third countries outside the consensus of the bloc."
Read also: Mercosur Summit to kick off in Montevideo with CPTPP issue topping the agenda
"We have expressed this through a note together with the national coordinators of Brazil and Paraguay. We consider that this is contrary to Mercosur regulations, not so much because it is incompatible with Article 1 of the Treaty of Asunción, to build a customs union, but, above all, because it violates the rule of consensus, a fundamental principle of Mercosur," the Argentine official insisted regarding Uruguay's filing of a petition to join the Trans-Pacific Treaty.
"It is the unilateralism of certain decisions that worries us, apart from the legal discussions that will take place at some point and in some place, what is missing here is the testimony of the concrete and reciprocal recognition of the political importance of the Mercosur member states that we have given each other and embodied in the Treaty of Asuncion," Cafiero went on.
"With mistakes and successes, I believe we can be proud of what we have built," Argentina's top diplomat said while he also highlighted "the importance of the intra-bloc trade exchange in Mercosur in the area of industrial goods."
Mercosur "constitutes a key tool to counteract the tendency towards the primarization of our economies," Cafiero also stated.
During Monday's session, Uruguayan Foreign Minister Francisco Bustillo underlined the need for a bloc that is "updated and modern" to be able and willing to project itself.
"We are what we have wanted to be: an imperfect free trade zone," Bustillo said about Mercosur. He also mentioned a challenging context, with strong adversities, new waves of COVID-19, and other hindrances such as the war conflict between Russia and Ukraine and the consequences of all these questions on developing countries.
Bustillo also mentioned the restrictive monetary policies, which imply an international interest rate increase, leading to lower economic growth worldwide.
The Uruguayan official then outlined his government's handling of Mercosur's pro-tempore president which is about to be passed on to Argentina: the green agenda, the digital agenda, and health and tourism. And he insisted that after 31 years of existence Mercosur cannot and should not be satisfied only with these achievements.
Mercosur needs to be able and willing to project itself into the new world dynamics and trends to face the challenges of yesterday, today, and tomorrow, Bustillo argued before wondering if the bloc has the will and disposition to take on these challenges and offer the member states a framework that allows the development of their communities through the growth of the bloc's economies while underlining Uruguay's vocation for regional integration, which is deeply linked to the need to create regional projects that seek to innovate toward an expanded market and as a platform for international insertion.
Bustillo also brought up that Mercosur has no active deal with any of the world's 10 main economic and commercial powers. He also explained that there were 2 ongoing negotiations with: with Korea and Singapore, while the agreement with India was of minimal economic significance in the Foreign Minister's view. Hence, if this situation persists, Mercosur "will be irremediably condemned to failure, to irrelevance."
The Uruguayan minister also said that regarding the Common External Tariff (CET) there was no such thing. "We are not a Customs Union," Bustillo stressed.
He also pointed out that an agreement with the European Union had been announced in 2019 but three years later new demands seem to be keeping it from becoming operational.