Peru: Boluarte facing first cabinet reshuffle in less than 2 weeks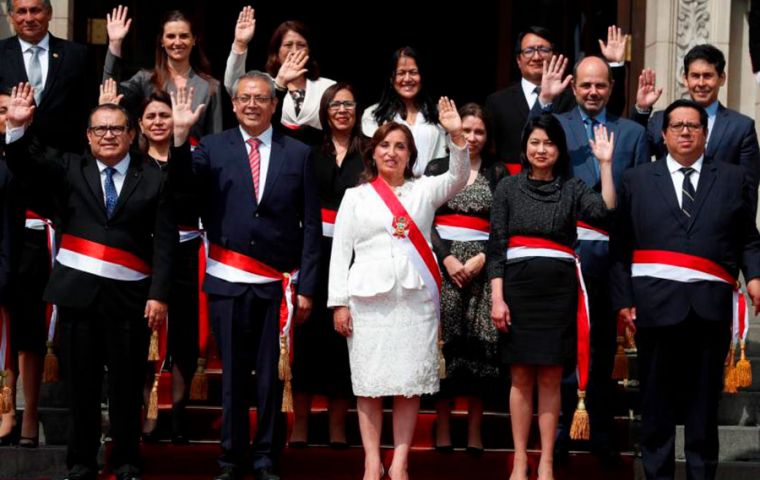 Peruvian President Dina Boluarte announced Pedro Angulo's departure as Prime Minister and said a replacement would be appointed on Tuesday at the latest.
Boluarte also said her first cabinet reshuffle after less than two weeks in office will need to focus on the candidates' know-how as well as on their political capabilities to weather the current political storm the country is going through following the impeachment of Pedro Castillo Terrones, which has caused over 20 deaths so far. "I am pained by the deaths of people amid this violence," Boluarte assured while insisting "the right measures" had been taken.
The President explained that law enforcement officers had been instructed to use tear gas and not pellets, which would contradict video footage from clashes in the Ayacucho region.
Boluarte also underlined that she was rejected as a result of Peru's "machismo" and blamed actions against her as driven by "a macho political revenge." She added that "as a woman, I feel violated by this number of people who have come out to ask for my resignation."
She also admitted she was in favor of advancing the elections, which is one of the demonstrators' demands, but recalled that such a decision was up to Congress. "Let's all of us go!," Boluarte stressed. "What is the problem? What interests are they taking care of?" she asked herself.
Meanwhile, US Secretary of State Antony Blinken urged Boluarte during a telephone conversation to make "the necessary reforms" with the ultimate goal of safeguarding the country's democracy. According to State Department sources, Blinken expressed his wish that "Peru's institutions and civilian authorities multiply their efforts to make the necessary reforms to safeguard the democratic stability" of the country.
Demonstrators coincide in protesting Castillo's dismissal and in demanding an early election and the closing of Congress. Others are also calling for the resignation of Boluarte and the release of Castillo, who has been detained on charges of rebellion since he attempted to dissolve Congress, with which he was at loggerheads, last week.
Other problems stemming from the current situation in Peru is that between 4,000 ad 4,500 foreign tourists were stranded in places such as Cusco after the airport was closed due to violent events. Humanitarian flights were implemented during the weekend, it was reported after operations from Cusco's Alejandro Velasco Astete were resumed.
Travelers stranded at the Machu Picchu citadel were asked to wait for another 48 hours until the railroad service could be restored. There is no other motor vehicle access to the area. Some tourists had to walk 29 kilometers to reach the nearest town center with a carriageable road.