Paraguay River downspout nearing record lows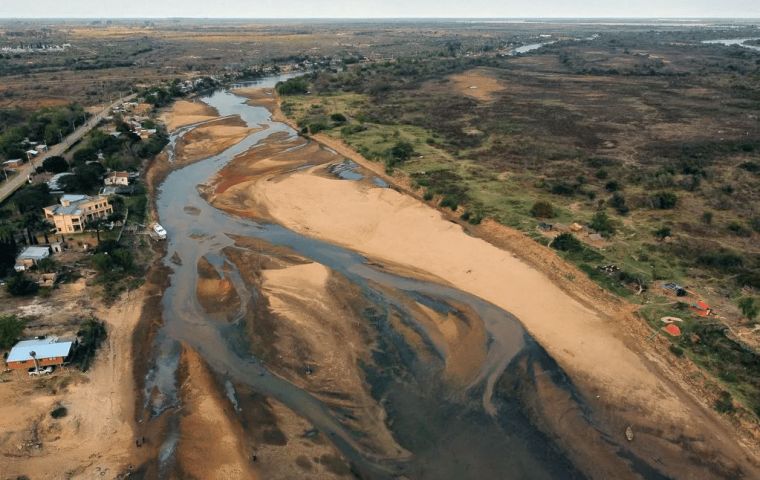 Paraguayan shipping companies and authorities expressed their concern Tuesday after the downspout at the Paraguay River nears its third consecutive all-time low.
With current levels matching those of a drought (only 50 centimeters from the historical record of 2021), the situation is already having an impact on navigability, particularly in the Bahía Negra area.
According to Hydrological Forecast Manager Max Pasten, river levels are currently at -25 centimeters from hydrometric zero. The agency is a part of the National Directorate of Civil Aeronautics (Dinac). The official also explained that these levels were only 50 centimeters away from equaling the historical record figures of 2021.
"We are about to reach or equal the critical level of the minimum recorded in recent years," he said on social media. Pasten argued that the current situation stemmed from the La Niña phenomenon leading to an absence of rainfall. He assured that several days of rainfall are required for the river to recover its flow.
The low water level has a direct impact on navigability, which, in turn, raises freight costs. Therefore, shipowners urge that dredging starts at once. According to the Centro de Armadores Fluviales y Marítimos del Paraguay (Cafym), over 70% of Paraguayan foreign trade moves by waterway.
Cafym's Esteban Dos Santos stressed that "it is imperative that the dredging works start."
"The river has dropped more than three meters in less than a month at the Asunción hydrometer," he added.
After a meeting last week with businessmen in the shipping industry, Public Works Ministry official Víctor Olmedo explained that "we have open contracts, there are three lots, we have already given the order to start the works," which are due to begin later this month.
Dos Santos added that "navigation is having serious problems to the south in the area of Paso Queso," a few kilometers south of Pilar (Ñeembucú) and that after talks with authorities, works would only start in the second half of January. "We hope that this will be the case and that in the meantime some rain will fall," he went on.
"The most complicated part is at the intersection of the Paraguay [river] with the Bermejo River, where a lot of sediments appear. There is also another difficult passage upstream, in Concepción," Olmedo explained.
(Source: Última Hora)