President Fernández: British "usurpation" of Malvinas embarrassing
Wednesday, January 4th 2023 - 10:47 UTC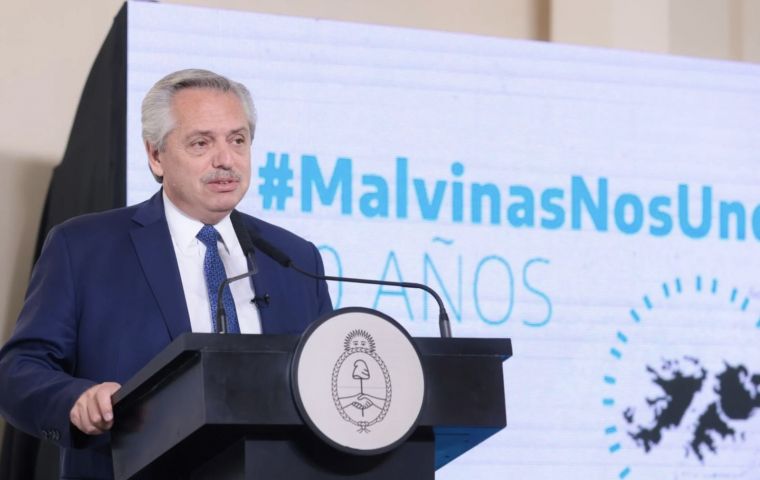 Argentine President Alberto Fernández Tuesday insisted that the British "usurpation" of the Malvinas (Falkland) Islands "should embarrass the whole world."
Fernández's remarks came during a ceremony marking the opening of a memorial site on the 190th anniversary of the "act of colonialism" which now "unites" Argentine society in its sovereignty claim.
"Argentina does not see its sovereignty full as long as those lands continue to be usurped by the United Kingdom (...) We are not at peace with ourselves if we do not continue claiming, for those who left their lives, for those who continue fighting," Fernández added.
Hence, his administration will continue "insisting that the Malvinas are Argentine," he pledged.
"Claiming sovereignty and that Argentina enjoys territorial freedom should attract the attention of the most powerful people in the world," Fernández also argued.
Joining Fernández at the ceremony was Defense Minister Jorge Taiana. During the event, a monument commemorating the Malvinas Islands was unveiled. It was built by the Tandanor Shipyard in front of the Libertador Building (National Army headquarters in Buenos Aires).
Argentina has raised numerous diplomatic objections to British military drills in the South Atlantic area.