Biden reaches El Paso to have first-hand impression of migration crisis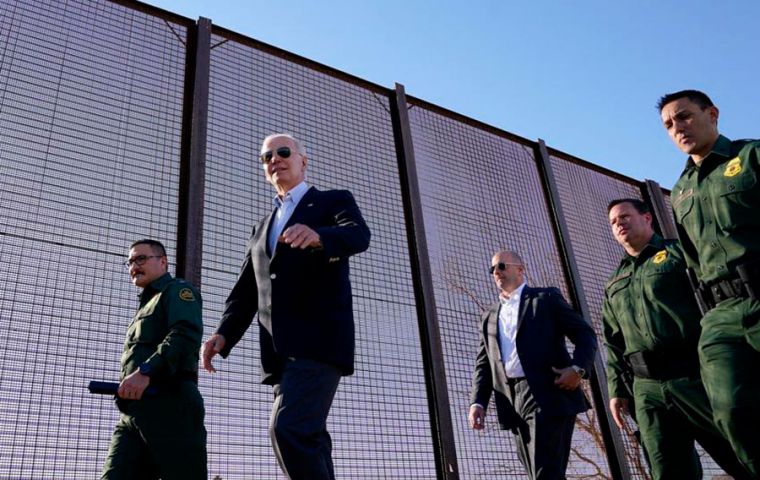 US President Joseph Biden Sunday arrived in El Paso, Texas, from where he will cross into Mexico for a Summit with his local colleague Andrés Manuel López Obrador and Canadian Prime Minister Justin Trudeau.
Biden's trip comes days after his government announced new immigration restrictions, which were criticized even by members of his own party and human rights organizations. At El Paso, one of the epicenters of the current migration wave, Biden was to meet with local officials and visit the Las Americas international bridge.
As part of an agreement with Mexico, the United States will begin expelling migrants from Haiti, Nicaragua, and Cuba who cross the border irregularly. López Obrador's government agreed to receive up to 30,000 migrants per month.
With this measure, Biden's Executive expands the use of Title 42, a controversial health rule that was imposed by then President Donald Trump (2017-2021), and which the current administration kept under court enforcement.
In addition to those three countries, subject to Title 42 are nationals from Venezuela, Mexico, Honduras, Guatemala, and El Salvador.
The Department of Homeland Security justified the expansion of Title 42 to these nationalities by citing a 90% reduction in the number of Venezuelan arrests at the border after it began enforcing the restriction in October.
Democratic Senator Bob Menendez of New Jersey, who chairs the Foreign Affairs Committee, opposed the new immigration rules. "Continuing to use this failed and inhumane Trump-era policy will do nothing to restore the rule of law at the border," Menendez said in a statement also endorsed by Ray Lujan, Alex Padilla, and Cory Booker.
Since 2020, Title 42 has allowed the apprehension of more than 2.5 million migrants at the border, according to the International Rescue Committee.