"Blue" dollar hits new highs against Argentine peso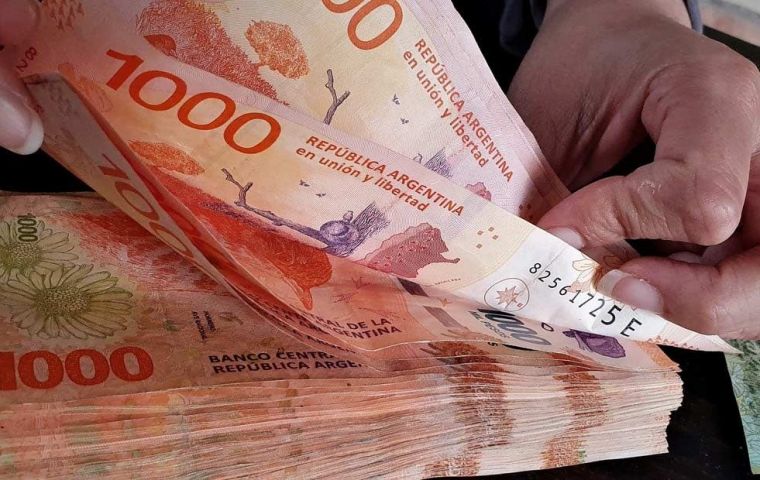 The most widely spread exchange rate between the Argentine peso and the US dollar -known as "blue" - went up AR$ 8 Tuesday hitting a new all-time high of AR$ 378 = US$ 1, it was reported in Buenos Aires.
In this scenario, the Central Bank (BCRA) saw its reserves drain further as it maneuvered to contain the foreign currency from skyrocketing, selling US$ 23 million Tuesday at the official average retail rate of AR$ 189.73 after having added US$ 280 million to its coffers last week.
In this scenario, dollars billed for transactions abroad on credit cards, which include the 30% surcharge from the so-called PAÍS tax plus a 35% advance payment on account of future income taxes, stood at AR$ 313.05, while travelers spending over US$ 300 in foreign countries will have their bills converted at AR$ 379.46, following an additional 45% tax.
Argentina's highest banknote is worth AR$ 1,000 (less than US$ 3). Hence, pressure is mounting on the government of President Alberto Fernández to issue newer AR$ 5,000 and AR$ 10,000 ones. Casa Rosada sources have confirmed the measure is under consideration.
When the AR$ 1,000 bill was launched in November 2017 it was tantamount to around US$ 57.
Following the departure of former Mendoza Governor Rodolfo Gabrielli as CEO of the Mint's Board of Directors, his successor Ángel Mario Elettore is to take office Wednesday, after which an announcement in this regard is expected. Back in May last year, the Mint was considering issuing new bills portraying national heroes instead of animals but higher denominations were out of the question.
Opposition Together for Change (Juntos por el Cambio - JxC) Senator Beatriz Ávila has drafted a bill for the Mint to issue 2,000, 5,000, 10,000, and 20,000 peso banknotes. "Not only does the National Government's refusal to issue banknotes of higher value with the evident purpose of not coming clean about the inflationary process that our country has been enduring generate concern among citizens, but also uncertainty," Ávila argued.