Buquebus orders largest 100% electric high-speed catamaran ferry in the world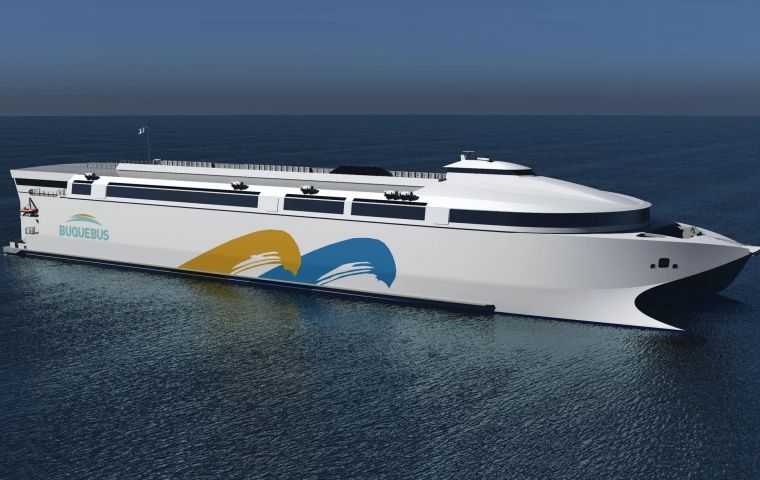 Shipbuilders Incat Tasmania has begun construction of what they claim will be the world's largest electric ferry boat. The 130-meter-long unit has been ordered by Buquebús, the company offering passenger services between Buenos Aires and the Uruguayan ports of Colonia and Montevideo through the Río de la Plata. It will have room for 2,100 travelers and 226 vehicles, it was reported.
Plans for the ninth Incat vessel to join the Buquebus fleet were originally announced in 2019. That original design called for two aluminum hulls connected to a bridging section. Its top speed was expected to be around 37.5 knots. Incat Tasmania is expected to deliver the new unit by 2025.
"Originally, this 130-meter ferry was to be powered by Liquefied Natural Gas, but after some discussions with the client, we were asked to replace the LNG plant with a zero-emission, battery-electric solution," the company explained in a press release.
Incat Group founder and chairman Robert Clifford explained that "the customer wants this to happen, Incat wants this to happen, and whilst there are matters to be finalized, I am extremely confident that Incat can deliver this ground-breaking ship."
"Obviously, there will always be the need for power supply in the ports that the ship will be visiting, but we understand that this is progressing positively. The batteries and electric motors have already been confirmed by our suppliers, to ensure that they will be able to deliver the necessary technology in the time frame we need it," Clifford went on.
"In my experience, unless we see something come in from left field, this is a done deal," he added.