HMS Protector play football at the most southerly and rugged pitch: South Georgia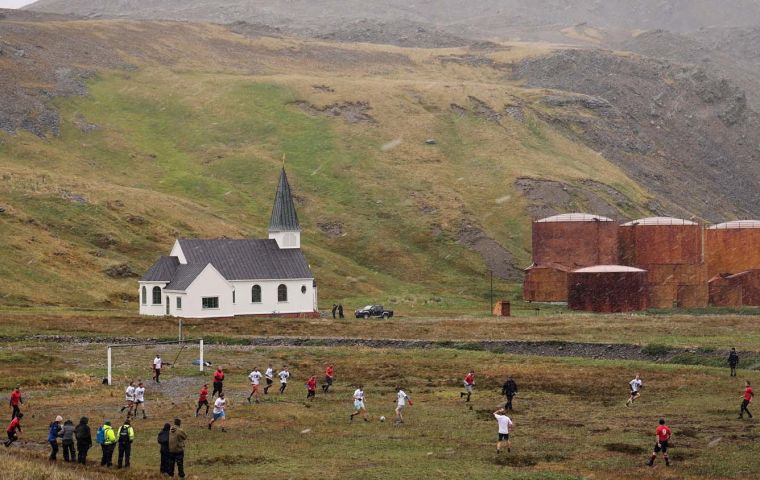 Sailors from the Royal Navy went head to head with British Antarctic Survey staff during a game of football on the most southerly – and arguably the worst – pitch in the world. The playing field, at Grytviken, the largest settlement of South Georgia Island, in the South Atlantic, is billed as the most southerly in the world, some 2,476 miles from the South Pole, to be precise.
During the match, both sides had to battle against sideways rain, snow, and gale-force winds at one of the most inhospitable places on Earth. The Royal Navy posted the incredible pictures of the game to social media, with the caption: "Is this the world's worst football pitch?
"Uneven. Unmown. Boggy. Strewn with thick tufts of grass. A rock-hard surface. And a goalmouth of gravel at one end. Oh, and it snows in mid-summer too."
The 11-a-side match between the crew of HMS Protector and government and British Antarctic Survey staff, was organized by the ship's Leading Physical Trainer 'Ray' Houghton.
Before departing the island on their most recent patrol, the crew of HMS Protector challenged the British Antarctic Survey staff to a game of football (Picture: Royal Navy).
"It was fantastic to get the opportunity to play on the most southerly football pitch in the world," said Ray.
"Regardless of the score, it was about getting our people off the ship, enjoying themselves and creating an experience they can look back on with fond memories.
"We are very grateful to South Georgia's government for being such good hosts."
The sailors lost 2-1 to the home side, who were said to be far better suited to the challenging conditions found at the British Overseas Territory. (Forces Net)