More protesters killed during Lima Takeover
Friday, January 20th 2023 - 09:57 UTC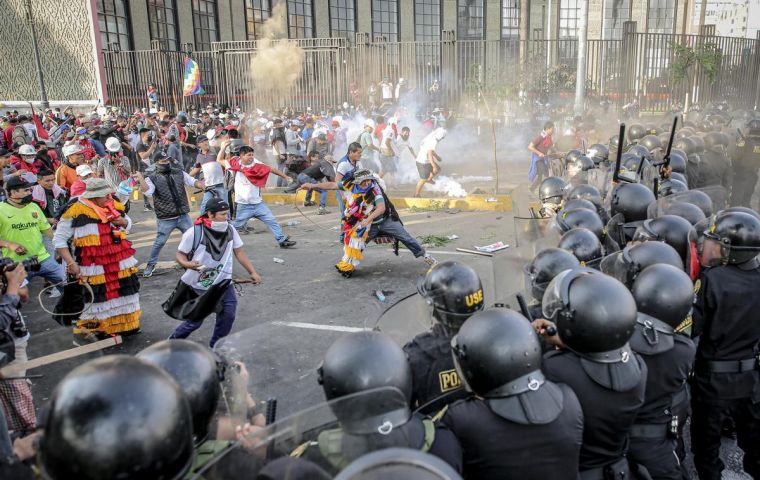 The number of people killed after President Dina Boluarte took office early last month following the impeachment of Pedro Castillo Terrones, who had tried to dissolve Congress and ruled by decree, has reached 54 Thursday as demonstrators staged the so-called Lima Takeover in the Peruvian capital and clashes with law enforcement officers were reported in other parts of the violence-torn South American country.
Thousands of demonstrators demanded Boluarte's resignation in Lima despite an 11,800-strong police presence. Their march triggered other actions nationwide seeking fresh elections and a constituent assembly.
Preparations for the Lima Takeover had been going on for the entire week. The march, called by unions and other groups opposing Boluarte, began peacefully before 4 pm local time (9 pm GMT) but soon clashes broke out between protesters chanting "Dina murderer" and other similar slogans and the police.
Peruvian National Police (PNP) used tear gas to disperse the demonstrators who were hurling stones and sticks at them.
"The marches will continue," until Boluuarte resigns, claimed General Confederation of Peruvian Workers (CGTP) Secretary General Gerónimo López, regardless of the government decreeing a 30-day emergency in Lima, Cusco, Callao, and Puno, thus placing the exercise of Constitutional rights on hold. "There is no authorization from the police, authorization is never requested for a social demonstration, it is not an obligation," López insisted.
Protests erupted after Dec. 7 when Castillo was overthrown and placed in pre-trial detention. The indigenist Castillo has strong support nationwide but is widely resisted in Lima, where businesses along the demonstrators' path were closed for the day. A fire was also reported to have broken out Thursday evening in an old four-story building near San Martin Square, where hundreds of demonstrators were gathered.
One man died in a hospital in the town of Macusani, in the southern region of Puno, where he was being treated for injuries following Wednesday's clashes. The victim, identified as Salomón Valenzuela, was aged 30. A 35-year-old woman also died at Macusani's San Martin de Porres Hospital on Wednesday after being shot at when protesters burned a police station and a court building.
The railroad services between Cusco and the Inca citadel of Machu Picchu were suspended as a precaution, as were operations at the airports in Cusco and Arequipa, where some 200 demonstrators seized the air terminal for a short while before being evicted by force, with violent clashes reported. Parts of the runway's landing lighting were burned, according to local media. Supporting this group, about 1,500 other protesters were deployed around the airport, while thousands of other demonstrators participated in a rally in downtown Arequipa.
President Boluarte insisted Thursday that her Government was "firm" despite the protests. "I want to deny the false news (...) The Government is firm and its cabinet is more united than ever," Boluarte told reporters at the Government Palace in Lima while insisting on her willingness to dialogue with the country's social forces demanding her resignation, but warned protesters that they knew that their actions were "outside the law" and accused them of wanting to "break the rule of law, generate chaos and disorder" to seize power. The head of state insisted that her administration would act "with the full weight of the law" and praised the "immaculate" actions of the PNP during Thursday's events.
So far, 44 demonstrators and one policeman died in the protests while other people, including an unborn baby and four Haitian citizens, perished in road blockades with no law enforcement involved.