Argentina started the Malvinas war, but has yet to admit "we lost that war," Lanata said
Saturday, January 21st 2023 - 10:28 UTC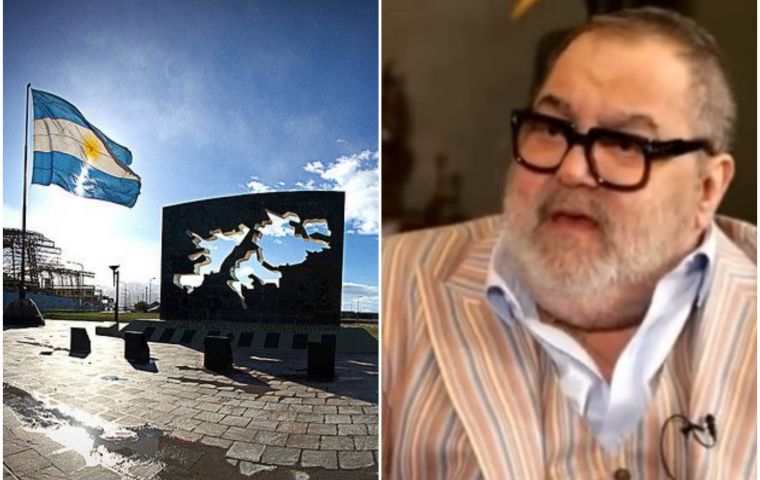 "The Falklands/Malvinas war was triggered by Argentina and what we Argentines do not understand is that we lost that war. Malvinas belongs to the collective imagination of Argentina". Statements from Argentine renowned independent journalist Jorge Lanata, recently interviewed by a Chilean television program on the current situation and prospects n the neighboring country.
In a long but enjoyable interview in which the Chilean journalist tries to understand what is going on in Argentina, the so called social gap, the political caste and the recurrent collapses of the Argentine economy, particularly since all Argentines seem to be divided in irreconcilable positions in all issues: soccer, food, politics... Lanata is asked about the Falklands/Malvinas war, "an issue in which there seems to be a no division, or at least there are no explicit divided opinions among Argentines and that is Malvinas...
"Ah yes, but no, because here also I have a rare position when it comes to Malvinas. In the sixties the Islands were very much integrated to Argentina. Argentine post office operated from the Malvinas, so was YPF, we had regular flights between the Islands and the continent with an Argentine state flag carrier, Lade, we had teachers that travelled to and from the Islands, we had scholarships for Malvinas children to study in Argentina and even health care and hospital attention in Argentina, relations with the continent were intense..."
But, ''Yes, of course war was started by Argentina. And even worse, to this day we don't understand that we lost that war. Malvinas belongs to the collective imagination of the Argentine people", added Lanata one of the most acknowledged investigative reporters for this exposure of excesses of all Argentine governments.
"The war started by Argentina set all the sixties back. We have to again start to slowly integrate the Islands as then. It was madness, and is part of the collective imagination. Definitively we lost the war."
Furthermore, "we talk about Malvinas as if there were no people in the Islands. Imagine tomorrow we recover the Islands,...what are we going to do with them? with the 2,500 people, permanent residents of the Islands? Are we going to give them social dole plans? What the hell are we going to do with all those people? Do you understand what I mean?"
Finally the Chilean interviewer recalls that Lanata in some of his videos, or films on the Malvinas, never mentioned Falklands or Port Stanley, but rather Malvinas and Puerto Argentino/Stanley. Lanata admits the issue but also underlines, "I'm Argentine, I can't do that, mention that.."
And what about Chilean support for UK during the war, Lanata did not see it as something big, "The fact is that for some strange reasons, which I can't work out or understand, Argentines don't tolerate Chileans, and the other way around is also true. Maybe Chileans envy Argentina when it was a first line country, it is hard to understand, the fact is Argentines and Chileans have a difficult relation", concluded Lanata.