Lula's busy agenda in Buenos Aires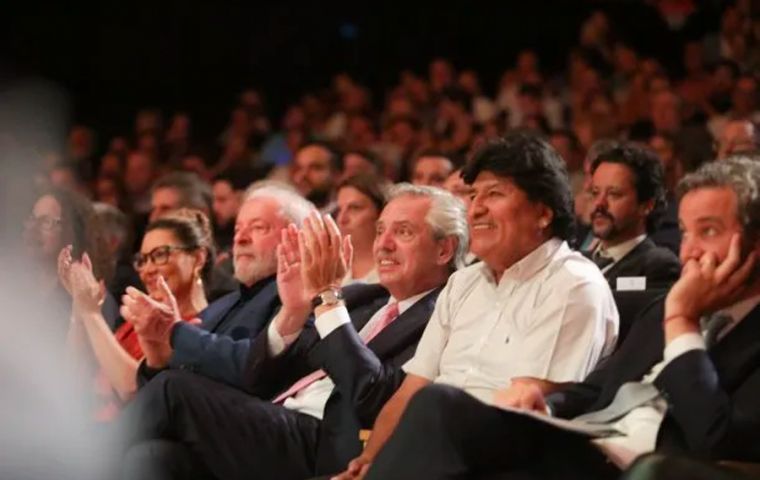 After their bilateral encounter at Casa Rosada, Presidents Alberto Fernández of Argentina and Luiz Inácio Lula Da Silva of Brazil met with representatives of human rights organizations, who insisted on getting together with the visiting leader, according to Fernández.
Grandmothers of Plaza de Mayo's Estela de Carlotto told Lula that the fact that "today you are president of this dear friend and brother nation fills us with pride; we wish you the best and may you succeed with all your magnificent ideas to continue embracing us with solidarity and love."
Meanwhile, Peace and Justice Service (Serpaj) chairman and 1980 Nobel Prize winner Adolfo Pérez Esquivel stressed that "democracies in Latin America are in danger, and, for that, we need the unity of Brazil, Argentina, and the rest of the countries of the continent."
The meeting was also attended by Grandmothers' leaders Buscarita Roa, Manuel Goncalves Granada, and Leonardo Fossati; Nora Cortiñas, Taty Almeida, Hilda Clara de Wainstein and Carmen Vieyra de Abreu, of Mothers of Plaza de Mayo Founders' Line; Ernesto Lejderman of Relatives of Detainees-Disappeared for political reasons; and Paula Donadío and Anabella Montaner, from H.I.J.O.S, among others.
Beatriz Capdevila, president of the Permanent Assembly for Human Rights of La Matanza (APDH), later told reporters that they had discussed with Lula the situation in Peru and the possibility that Fernández grants a presidential pardon to Milagro Sala, the Jujuy social leader who has been convicted for corruption in the management of funds granted to the Tupac Amaru organization by the federal government to build homes for the needy. At this stage, a presidential pardon would have political consequences for Fernández's reelection plans.
In an unrelated episode Monday, Sala's son Sergio Chorolque Sala, was found dead at his Jujuy home. The cause of death was not disclosed but Tupac Amaru sources said he had diabetes and substance consumption problems. He was 37. He had been charged with money laundering for buying seven cars in cash between 2011 and 2015.
Capddevila also said they had spoken with Lula about lawfare and the dangerous advance of Latin America's political right, something that was also happening "in countries such as Italy [and] Spain."
The visiting leader's agenda culminated at the Argentine-Brazilian Brotherhood Concert at the Kirchner Cultural Center (CCK), where Presidents Lula and Fernández were joined by former Bolivian head of state Evo Morales.
The musical performance featured Brazilian artist Teresa Cristina and local performers such as Juan Carlos Baglietto, Flor Bobadilla Oliva, León Gieco, Nacha Guevara, Rodolfo Mederos, Sandra Mihanovich, Teresa Parodi, Nahuel Penissi and Ligia Piro.
Despite Lula's busy agenda, one item was removed: a personal meeting with Venezuelan President Nicolás Maduro, who in the end decided against attending the Celac Summit amid fears that he might be arrested.