Falkland Islands Government strongly condemns Argentina's decision to refuse permission for Brazilian airlink
Monday, January 30th 2023 - 23:38 UTC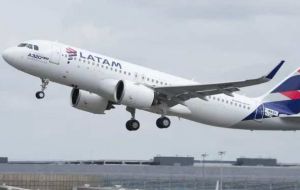 In a Monday release, the Falkland Islands government condemned Argentina's refusal of over flight permission for the air link with Brazil and accused Buenos Aires of denying the Islands self-determination, "enforcing sanctions on our people and another attempt to isolate us from South America and impede our economic development."
The Falklands government also underlined point blank that "Falkland Islanders will not enter into discussions about a direct flight to Buenos Aires, or the possibility of Argentina's national airline servicing any routes into the Falkland Islands."
The statement follows,
The Falkland Islands Government (FIG) is "very saddened" and "disappointed" to announce Argentina's refusal of overflight permission for the weekly airlink between the Islands and Brazil. While this route has been temporarily suspended since March 2020, due to the COVID-19 pandemic, the Falkland Islands Government has been working towards the reestablishment of the route following the successful restart of the weekly airlink between the Islands and Chile in July 2022, FIG said Monday in a press release.
"Since early 2022 the Falkland Islands Government have been committed to the restart of this commercial airlink, w"th numerous agreed meetings between all parties, which the Government of Argentina then either cancelled or postponed," the office remarked.
Any discussion relating to connectivity between the Falkland Islands and South America will require discussions with the Falkland Islands Government, the UK Government and the Government of Argentina. The Falkland Islands Government will look at other viable options including those not requiring Argentinian overflight but will always be open to the restart of this airlink.
MLA Mark Pollard said: "The Government of Argentina continue to deny our self-determination, and take every opportunity to enforce sanctions on our people and collectively punish us for legitimately exercising our democratic rights. This latest move is yet another attempt to isolate us from South America and impede our economic development."

"We repeatedly, that Falkland Islanders will not enter into discussions about a direct flight to Buenos Aires have said, or the possibility of Argentina's national airline servicing any routes into the Falkland Islands. We have been steadfast on both of these points, and it is incredible that these are still considered bargaining chips by a government which treats us with such unprovoked open and continued hostility. By refusing permission for overflight of this aircraft, not only are they removing the only link between the Falklands and Cordoba, they are also hindering their own economic and social development by reducing connectivity between Sao Paulo and Cordoba."
"The contract with LATAM will be extended in the hope that the flight will be restarted in the future once more cooperative discussions can be held."