Mapuche rebel Jones Huala arrested in Argentine Patagonia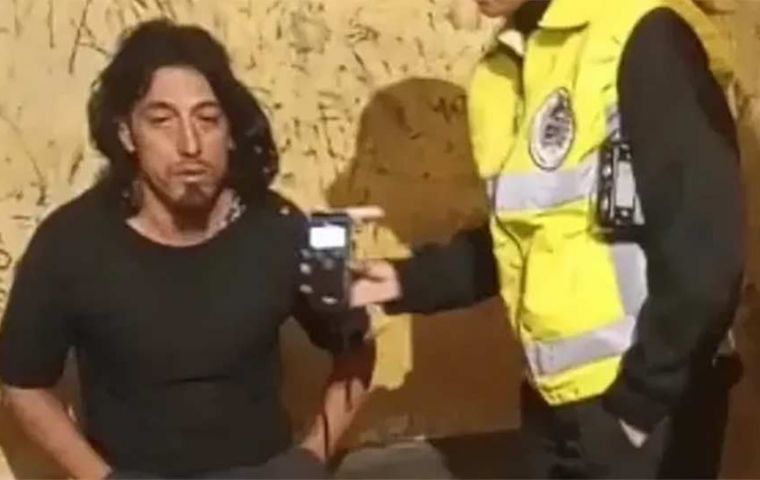 Mapuche Ancestral Resistance (RAM) leader Facundo Jones Huala has been arrested by Río Negro provincial police in the Argentine city of El Bolsón after being a fugitive from Chile's Judiciary since Feb. 11, 2022.
Provincial authorities are now coordinating the next steps with the Federal Government for possible extradition. In the meantime, he has been transferred to a Bariloche detention facility.
"We proceeded to check the place and observed a person in a room, lying on a pile of clothes, presumably asleep who was wearing a jeans skirt up to the knee and a black blouse with gold studs and a long sleeve flowered t-shirt underneath (...) When asked who he was, he said he was Jones Huala," Rio Negro Police said in a statement.
"There were rumors of people who had identified him in the area for several months and finally we were able to find him. He was in a state of drunkenness, in good physical condition, alone, hiding and in a situation of common crime," Río Negro Governor Arabela Carreras told Infobae.
Jones Huala is under an Interpol blue alert, which is designed to obtain more information about a person's identity, whereabouts, or criminal activities in connection with a criminal investigation.
Infobae also reported that the Bariloche Federal Court was in touch with the Chilean magistrates who issued the alert, which might be upped to red, in which case Interpol might arrest the suspect and the extradition process could begin.
In addition to the cases against him in Chile, Jones Huala could be indicted in Río Negro for other crimes, Infobae also said.
The Chilean justice had declared Jones Huala a "fugitive" last year for not showing up after the Supreme Court revoked his release on parole.
Chile sentenced the RAM leader to nine years in prison for the 2013 burning of a house in Pisu Pisué and threatening a family with firearms, although the sentence was reduced to 6 because time served at the Argentine federal prison in Esquel pending his extradition was added to the equation.
In January 2022, Jones Huala was granted parole when the Temuco Court of Appeals appraised his "good conduct" as an inmate.
"The national government has to take a stand on the dangerousness of this man, who fortunately has been captured by the province; he is the leader of these hooded men who are fugitives like him, who escaped on October 4 up the mountain in Villa Mascardi," Diego Frutos, president of the Villa Mascardi Neighborhood Council, said in a radio interview with a Buenos Aires broadcaster.
"[Security Minister] Aníbal Fernández belittled us as neighbors every time we denounced the exact place where he was; I denounced the exact place where he was watching the World Cup final," he added. (Source: Infobae)