Census shows Argentina has a population of 46 million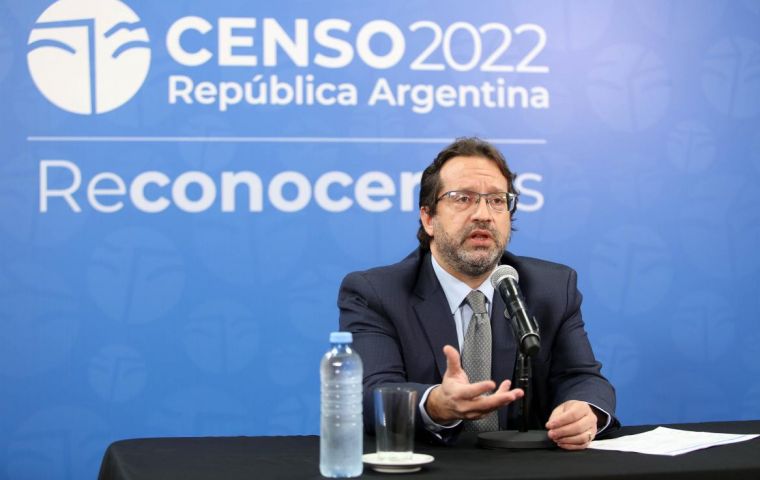 Argentina's National Institute of Statistics and Census (Indec) Tuesday published the results of the 2022 survey, which showed that the country has 46,044,703 inhabitants in 17,805,711 households nationwide. The study also found that 48.22% of the total population was male and 51.76% female.
Announcing the results were Indec Chief Marco Lavagna alongside Technical Director Pedro Lines and Director of Social and Population Statistics Gladys Massé.
"The digital census was one of the great novelties. It is transitional, it marks methodological changes for the future. In the beginning, we did not know how the population would receive it. It was a resounding success," said Lavagna. He also pointed out that around 55.28% of the people responded digitally.
"The 2022 Census covered 98.6% of segments nationwide. At an international level this is an extremely good level," he added.
The 2022 Census preliminary results were released on May 19, 2022, only 24 hours after the home-by-home survey conducted on May 18. However, due to problems in the uploading and collection of information, they were postponed for approximately five months.
The population was found to be distributed as follows: Buenos Aires (Province + Autonomous City) - 17,569,053; Córdoba - 3,978,984; Santa Fe - 3,556,522; Mendoza - 2,014,533; Tucumán - 1,703,186; Salta - 1,440,672; Entre Ríos - 1,426,426; Misiones - 1,280,960; Corrientes - 1,197,553; Chaco - 1,142,963; Santiago del Estero - 1,054,028; San Juan - 818,234; Jujuy - 797,955; Río Negro - 762,067; Neuquén - 726,590; Formosa - 606,041; Chubut - 603,120; San Luis - 540,905; Catamarca - 429,556; La Rioja - 384,607; La Pampa - 366,022; Santa Cruz - 333,473; Tierra del Fuego, Antarctica, and South Atlantic Islands - 190,641.
The census was conducted in May last year, with a delay of 2 years due to the covid-19 pandemic. The previous census had been carried out in October 2010, when the population was determined to stand at 40,117,096 in 13,835,751 households.