Peru's advancing elections third-time unlucky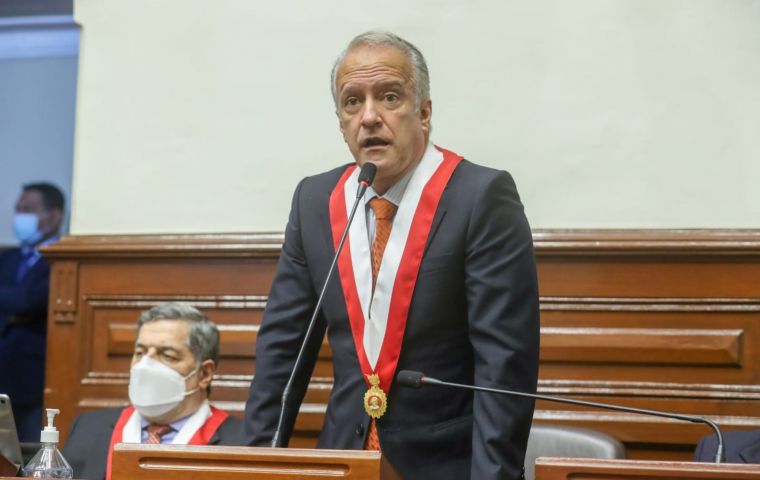 Peru's one-house Congress voted once again Thursday against moving forward the elections to some time in 2023. It was the third such rejection in one week while the country sinks deeper into a political crisis which added one more fatality Thursday to the growing tally recorded since the impeachment of Pedro Castillo Terrones on Dec. 7, 2022. Several ministers are expected Friday to go to Congress to present another bill proposing an early election on October 8.
With 48 votes in favor, 75 against, and one abstention -noticeably short of the 87 votes it needed to succeed-, the bill turned down Thursday provided for the elections to be held on the second Sunday of July, in addition to a referendum on the convening of a constituent assembly, another demand of the anti-government protests. It had been motioned by the Marxist party Peru Libre, which brought Castillo to the presidency.
The debate took place after the rejection Wednesday of another bill that proposed to hold complementary elections in December of this year, which also included electing new representatives in the Executive and the Legislative to complete the period that began in 2021 and ends in 2026. That initiative had been filed by the Fujimorist Hernando Guerra García.
In favor of Thursday's proposal voted the leftist parties Bloque Magisterial, Perú Democrático, and Juntos por el Perú, of whom Ruth Luque explained that the convening of a constituent assembly does not impose the participatory mechanism and collects one of the main demands of the population.
Guerra García insisted Peruvians "missed" former president Alberto Fujimori (1990-2000) and that the Constitution drafted in 1993 has brought wealth to the country." The octogenarian Fujimori is jailed for crimes against humanity.
The ultra-conservative group Renovación Popular and the center-right Somos Perú voted as a block against the bill, while Avanza País and Podemos Perú also rejected it with a large majority.
Meanwhile, the Ombudsman's Office confirmed Thursday another death in protests, bringing the total number of casualties to 66. A child was confirmed to have died in an incident linked to a road blockade on Dec. 12 in Caylloma, in the southern department of Arequipa. In its daily report, the agency said it was "verifying the data of a minor who died on December 12, 2022, in Arequipa," during disturbances in El Pedregal. The child died together with his mother, Prosecutor Marizel Leonize Chamana, in a traffic accident on a road affected by clashes, according to local media.