Beijing admits balloon over Latin America is theirs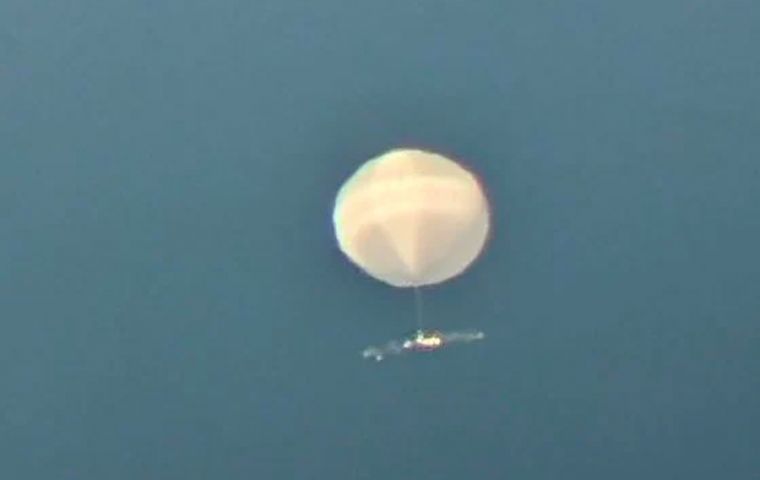 As US defense forces are beginning to pick up the debris from the Chinese balloon downed during the weekend by the Air Force on President Joseph Biden's orders, the Asian country admitted a second such aircraft last spotted over Colombia belonged to them. Biden said Monday that the Pentagon was in contact with the Latin American countries through which the Chinese balloon passed. The Colombian Air Force reported that "an object" with "characteristics similar to those of a balloon" was detected and monitored "until it left the airspace."
Although China's Foreign Ministry explained that the artifact was for civilian purposes, the United States continues to consider it a threat to its national security and canceled Secretary of State Antony Blinken's trip to Beijing scheduled for this week.
The Chinese Foreign Ministry explained Monday that the object that crossed the Colombian sky was "of a civilian nature and used for flight testing." Because of "meteorological forces and its limited maneuverability, the airship seriously deviated from its scheduled route" and "accidentally headed towards Latin America and the Caribbean," said Foreign Ministry spokesman Mao Ning at a press conference.
"China is a responsible country and has always strictly respected international law," Mao added.
"We have communicated with relevant parties and are handling the issue properly, we will not cause any threat to any country," the official also pointed out three days after the Pentagon warned that a second alleged spy balloon had been detected over Latin America.
Democratic Senator Chuck Schumer said Monday that the Upper House is to be briefed confidentially on the balloon incident on Feb. 15.
National Security Council spokesman John Kirby explained that "weather conditions" had not permitted underwater operations to recover more debris. He added that the United States had "no intention or plans to return" the wreckage to the Chinese authorities.
National Security Advisor Jake Sullivan said that recovering more debris from the balloon will be a task that may take time, but will be beneficial because Washington will be able to "learn even more than has already been learned."
According to the head of the US Aerospace Defense Command, General Glen VanHerck, the retrieving effort involves the Navy ship USS Carter Hall, which is near the site where the balloon fell into the sea, along with a Pathfinder vessel with sonar that will help create a map of the area. VanHerck did not rule out that parts of the balloon washed ashore and urged citizens living in the area to contact local safety officials if they find any pieces. For these recovery tasks, the Armed Forces are assisted by the FBI and agents of the Naval Criminal Investigative Service.
Beijing declared that the US measure was exaggerated and promised to reserve the right to take the necessary measures.