UN delegate busy fighting corruption in Asunción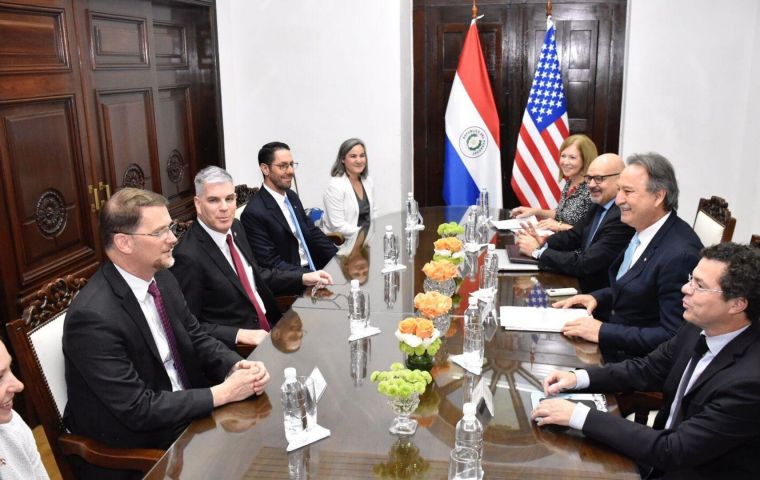 The regional representative of the United Nations Office on Drugs and Crime for the Andean Region and the Southern Cone (Undoc), Candice Welsch, has had a busy agenda in Asunción. She held separate meetings with US Ambassador Marc Ostfield and also with the Paraguayan Secretariat for the Prevention of Money Laundering (Seprelad). In both encounters, corruption and money laundering were the main topics.
Welsch had already held a meeting recently with Comptroller General Camilo Benítez, to whom she laid out Undoc's strategic 2022-2025 vision for the region.
Ostfield and Welsch concurred on the local and regional efforts in the fight against corruption, impunity, organized crime, and drug trafficking. Welsch's meeting came days after the US imposed financial sanctions on former President Horacio Cartes and current Vice President Hugo Velázquez on Jan. 26, after which the Cartes Group announced through a statement that the former head of state would step aside from the business conglomerate. Last year Cartes and Velázquez were already declared significantly corrupt and banned from entering US territory.
Welsch also met with Seprelad Deputy Minister Carmen Pereira Bogado, during which both institutions coordinated joint actions for the fight against money laundering and corruption in Paraguay, it was reported. Also participating in the meeting were National Anticorruption Secretariat (Senac) Minister Federico Hetter, and Pedro Cañete, head of the International Bureau for Special Affairs Department of the Foreign Ministry, in addition to Paraguayan anti-corruption advisor to the United Nations Office on Drugs and Crime Juan Ortiz.
Cartes and Velázquez were said to have bribed local Members of Parliament to pursue their corrupt agendas which include links to global terrorism.
Seprelad insisted that before the sanctions it had already sent reports to the Prosecutor's Office about suspicious operations and possible bribes. Those documents were said to have been shelved when heading the Public Prosecutor's Office was Sandra Quiñonez, known for her Cartesist allegiance.