Brazil: Monitoring flight spots lost tribe in the middle of Yanomami lands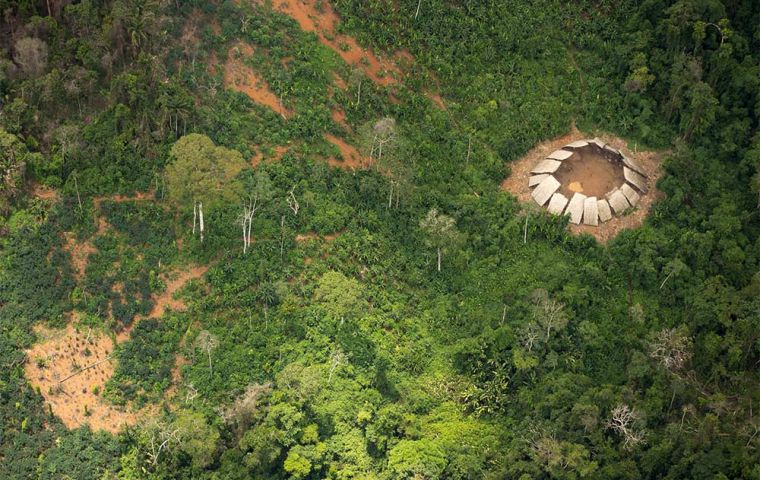 A small indigenous community has been detected inside the Yanomami Territory in Roraima, only 15 kilometers from an illegal mining site where garimpeiros pose a threat to their survival and well-being, Agencia Brasil reported Friday.
The flight that spotted the aboriginal group was part of a monitoring scheme performed jointly by the Ministries of Indigenous Peoples and of the Environment, together with the National Foundation of Indigenous Peoples (Funai), the Brazilian Institute of Environment and Renewable Natural Resources (Ibama), and Federal security and armed forces.
According to Funai, they are indigenous people of the Moxihatëtëa people who have not been yet contacted but have been monitored by the foundation since 2010. They are one of those communities living in total isolation or without significant contact with western civilization.
At least since 2017, the Federal Public Ministry (MPF) has been warning about the threat of genocide of the isolated Moxihatëtëa people, two of whom have been reported to have been shot dead in 2021.
In addition to the Moxihatëtëa, Funai estimates that there are at least two other isolated indigenous communities in Yanomami territory, but there is still no official proof. Specialists fear that forced contact with non-indigenous will lead to the decimation of these peoples, either through direct conflict or the spread of diseases.
Affected by the presence of illegal mining on their land for years, the Yanomamis have suffered from malnutrition, malaria and pneumonia, and violence, including aggression and murders. The situation has worsened in the last four years.
Images of malnourished children and adults and health units full of people suffering from malaria and other diseases have mobilized the federal government to implement emergency measures to help the Yanomami. The actions include the elaboration of diagnostic reports, sending medical teams, supplies, and food, as well as direct repression of the miners and their financiers.
Last week, Special Secretary for Indigenous Health Ricardo Weibe Tapeba said that there has been political interference in the public health care service of the Yanomami people in Roraima. The indigenous people are living in a serious humanitarian crisis, affected mainly by illegal mining that dominates the territory, causing environmental destruction, water contamination, and the spread of disease and violence.
"What we have experienced in the Yanomami Dsei [Special District of Indigenous Health], in recent years, was a real political takeover, real political oligarchies that hold power here in Roraima," Tapeba said during a press conference in Boa Vista.
There are 34 indigenous health districts nationwide linked to the Special Secretariat of Indigenous Health (Sesai).
Tapeba, a Health Ministry audit in the Yanomami Dsei detected several irregularities in contracts. "An audit has already been done here in the Yanomami Dsei. AudiSUS, which is a department within the Ministry of Health, conducted an audit. This audit showed an index of irregularities in several contracts. We had a meeting ... with the Federal Audit Court and the TCU is also planning an audit here in the Yanomami Dsei," he explained.
"Many of these politicians who are involved in the organization of the Dsei are also directly connected to illegal mining. There are investigations underway by the Federal Police, which, in the end, will have a very big outcome and I am sure that many people will be arrested as well," he added. (Source: Agencia Brasil)
///